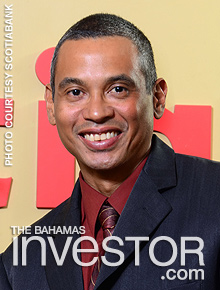 Scotiabank Bahamas Ltd welcomes Sean Albert to the role of managing director.
"On behalf of Scotiabank Bahamas, I want to congratulate Sean and welcome him to his new role," says Bruce Bowen, Scotiabank's senior vice president for the Caribbean.
"Sean's appointment is recognition of his skills and experience and I am confident that his knowledge of our business will serve Scotiabank Bahamas well."
Since 2011, Albert has been managing director of Caribbean East and has led Scotiabank's operations in nine countries–Anguilla, Antigua & Barbuda, Barbados (as country manager), Dominica, Grenada, St Kitts & Nevis, St Lucia, St Maarten and St Vincent & The Grenadines.

Scotiabank Bahamas chairman Anthony Allen notes: "Sean brings with him a wealth of banking knowledge and experience, and strong leadership skills. We are pleased to welcome him to The Bahamas and are certain of his ability to manage our operations and play a significant role in the wider banking community."