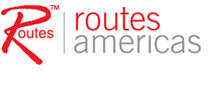 Last year was a record year for Routes with more delegates than ever before attending its World and Regional Route Development Forums, despite the challenging macro-economic climate and considerable headwinds for the aviation industry.
A record number of over 5,500 delegates attended the seven events that Routes organized around the globe in 2012.

David Stroud, executive vice president of Routes said: "The record attendance at our events highlights the importance of intelligent network planning for airlines, airports and tourism authorities. More and more people in the industry and beyond have grasped the strategic role that air services play, not just for the aviation sector, but for regional and national economies around the world. With over 15,000 face-to-face meetings taking place at World Routes alone, we offer the fastest and most efficient platform for everyone involved in creating new air links."
"We know the industry has another tough year ahead, but we are confident that we will be able to welcome even more delegates this year to our events that will include regional forums on all continents and an even bigger and better World Routes in Las Vegas."
More than 3,000 delegates including representation from over 300 airlines and 750 airports gathered in Abu Dhabi, the capital of the UAE at the end of September for World Routes, the 18th World Route Development Forum. The event, which this year was hosted by Abu Dhabi Airports Co, is the largest gathering of the commercial air transport community and the only global event focused on route development meetings.
With the 10th Routes Asia in Chengdu, China, the 5th Routes Americas in Nassau, The Bahamas, the 7th Routes Europe in Tallinn, Estonia, the 7th Routes Africa in Victoria, The Seychelles, and the second Routes CIS in Ekaterinburg, Russia, five successful Routes Regional events took place during the year to foster air links within the world's key regional aviation markets.
At least seven events are planned for this year:
Routes Americas: 10-12 February, Cartagena (Colombia)
Routes Asia: 17-19 March, Mumbai (India)
Routes Europe: 12-14 May, Budapest (Hungary)
Routes CIS: (date and host to be announced soon)
Routes Africa: 7-9 July, Kampala (Uganda)
World Routes: 5-8 October, Las Vegas (USA)
Invest & Manage Airports: 4-5 October, Las Vegas (USA)
Future events that have already been announced for 2014 include Routes Europe (Marseille, France), Routes Asia (Kuching, Malaysia) and World Routes (Chicago, USA).