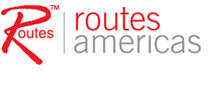 Routes Americas 2012, a three-day conference promoting the region's airline industry, officially launched Friday at the Atlantis Conference Center on Paradise Island.
The event, hosted by the Nassau Airport Development Co (NAD), runs February 19-21 at the Atlantis Paradise Island.

This year's Routes Americas conference is the fifth in the Americas series and is the first held in an English-speaking locale.
"This year's event will be the largest ever, with more than 400 delegates from 42 countries attending, representing 60 airline carriers," said Nigel Mayes, vice president and managing director of Routes, and one of the key speakers at the launch.
Also attending was Stewart Steeves, president and chief executive officer of NAD.
"We are delighted to be the host airport for this important function," he said. "As a medium sized airport with giant ambitions, we believe the conference will help put us into the top three [airports] in the region."
Referring to the networking opportunities of the Routes conference, Steeves remarked: "Routes will help us solidify relationships and develop new ones. We are meeting with 14 airlines, seven that are new to us and will, hopefully, sign on to offer service to Nassau."
Mayes closed the session by stressing the importance of airline service to the overall economy of the region. "Air services enable global trade and bring different cultures and people together," he said.
Also welcoming Routes to Nassau and Paradise Island at the launch press conference was David Johnson, Director General of the Bahamas Ministry of Tourism and Aviation.
hcutting@dupuch.com