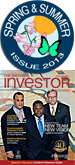 The Bahamas' pleasant climate and beautiful scenery make it paradise for cyclists. The nation's gently undulating roads and leafy byways provide the perfect backdrop for weekend bike enthusiasts, as well as for dedicated road racers.
Keen cyclist and senior vice president at Pictet Bank, Lawrence Glinton, believes that cycling is not only a healthy pastime, but could also play a key role in promoting the country and bringing in sports tourism dollars.
On your bike
When Glinton first got on a bike it was nothing more than a means of transport. As a child, he cycled back and forth to tennis matches every week and, when he got older, to college. Glinton now has over 25 years experience cycling and has participated in national and international races and even ridden part of the legendary Tour de France route.
Glinton says he likes to get out on the road about four times a week and his favourite routes are along the picturesque western coastline of New Providence—from Sandyport to South Ocean and Coral Harbour. "There
is limited traffic and you can cover a lot of distance, but you also notice a lot more of
the scenery than you would driving in a car."
Even off the bike, Glinton is a keen cycle racing fan. "I like to watch the tours on television, because the racing is usually very exciting and the scenery is simply incredible," he says.
In 2010, the avid cyclist got the chance to ride a section of the Tour de France when he joined a French cycling tour, led by a former Tour de France rider. "I was fortunate enough to ride on the Champs-Elysees in Paris on the morning of the last day of the 2010 Tour," he says. "That was a truly exhilarating experience, because that is considered the most famous route in cycling and to do it with thousands of fans lining the route was simply incredible."
Teaming up
For cyclists of every age, The Bahamas offers plenty of opportunities to join the cycling community. Training rides, large-scale events and casual expeditions give riders the chance to share tips, equipment and information on the best routes. "Over the last few years, the number of cyclists in the country has grown significantly and that is very encouraging. Most of the competitive cyclists know each other and there is a fair degree of camaraderie, even in races," says Glinton, who adds that it is not only fun to be part of a team, but also safer.
"It is better to ride with a group just because of the numbers." Glinton adds that safety should always be a priority and cyclists should have bright lights and wear reflective gear and tail lights.
The best way to get involved in the cycling scene is to join one of the many clubs available for enthusiasts of all levels. The New Providence Cycling Association holds races twice a week, with a team specially for junior riders, and the Bahamas Cycling Federation—an umbrella organization charged with promoting cycling throughout the country—runs events such as the Independence National Road Cycling Championship.
Glinton is a member of Nassau's largest cycling club, JAR Cycling, which meets several times a week and hosts the annual Tour of The Bahamas competition. The tour pits international and local competitors against each other in three events–individual time trials, a road race and a circuit race. It is held in January or February each year.
Another landmark event in the cycling calendar is the Ride for Hope. Held in Eleuthera annually, the race raises money for cancer charities in The Bahamas and attracts hundreds of participants—both local and foreign. Glinton took part in last year's event in honour of his late mother, raising around $1,000.
"My best memory [of cycling] is ironically one of my sadder memories as well," he says. "In May 2010, my mother died from colon cancer and, after not having ridden for several months, I rode 83 miles in her memory."
Committed to the sport
No matter what level of commitment a rider has for the sport, there's always the chance of injury, even on relatively flat terrain such as The Bahamas. Glinton, for example, has had his fair share of strains, cuts and bruises. "One morning, while on a training ride, I crashed at 28mph," he says. Although he did not break any bones, he was pretty badly grazed and required a tetanus shot and lots of antibiotics.
Aside from bumps and bruises, the sport can deter novices due to the cost of equipment, bike maintenance, gear and repair. "Like most sports, the cost depends on your level of involvement and your objectives," says Glinton. "If you are cycling purely for exercise or health reasons or personal enjoyment, you can spend as little as two or three hundred dollars for a bike, but that can increase to thousands of dollars depending on the type of equipment that you wish to use and your level of disposable income."
Glinton has this advice for beginners: "Buy the best cycling equipment that you can afford the first time around, and you will not need to upgrade in six months once the cycling bug gets you."
President of the New Providence Cycling Association, Barron "Turbo" Musgrove, says the cost of equipment is a serious impediment to encouraging the younger generation to get involved. To combat this, the NPCA runs a youth development programme whereby youngsters aged 10-16 can be given a "loan bike" and, further down the road, are assisted with buying their own.
"Young people are our feeder system," he says. "[Encouraging them] injects and infuses young cyclists into the sport as the older ones move off the scene."
International appeal
The international events hosted by Bahamian cycling clubs attract competitors from around the world. Glinton, who is one of the original founders of the Tour of The Bahamas, says entrants have come from Europe, with some former Tour de France riders even giving the course a shot. This not only helps strengthen the local cycling community, but also contributes to the wider economy.
"Cycling is ideal for sports tourism, because of our climate," says Glinton.
Musgrove agrees. "It is attractive [to cycle in The Bahamas] because of our weather, our people and because cyclists can come to The Bahamas and enjoy a great vacation," he says. "They can enjoy the tranquillity. On the Family Islands, all they have is the road—no heavy traffic—and excellent scenery.
"Every weekend in New Providence you will find a cyclist on vacation from some other part of the world."