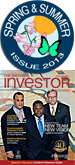 Being an archipelago of 700 islands straddling major shipping routes serving the western hemisphere, it comes as no surprise that The Bahamas has one of the biggest and highest calibre shipping registries in the world, logging a total of 1,680 vessels, with 57 million gross tonnage (see Figure 1 – pending). The registry, however, is only one part of a diverse Bahamas' maritime offering.
From financial services to fishing, ship repair and trans-shipment, The Bahamas' maritime industry involves an entire range of sectors, which combined contribute an estimated 14-18 per cent of the gross domestic product (GDP). According to former Bahamas Maritime Authority (BMA) chairman, Ian Fair, however, The Bahamas is still falling short of fully capitalizing on this vibrant industry.
"The maritime industry is still not treated with the respect it fully deserves in The Bahamas, particularly given that it is the third pillar of the economy after tourism and financial services," says Fair, who now holds the position of Grand Bahama Port Authority and Port Group Ltd chairman. With 90 per cent of the world's trade travelling by sea (see Figure 2 – pending), the potential to make maritime an even more substantive contributor to the economy is a very real one, he says.
Maritime cluster
To get some idea of the depth and breadth of the industry, Fair cites figures relating to the world's biggest maritime event Posidonia, which was held in Athens, Greece, in early June last year. The biannual trade show attracted 18,547 visitors over four days and hosted 1,870 exhibitors ranging from accountants to container shipment companies, with representatives from 92 countries. "It's incredible how many segments are involved in the sector," he says. "The problem in The Bahamas at the moment is that the industry is somewhat fragmented and has not been marketed as extensively as it deserves. To take advantage of the potential, businesses, government bodies and financial institutions should cooperate with one another. We could feed off our respective strengths, avoid wasteful duplication of effort and develop strategies and synergies together."
What Fair is proposing is to develop a maritime cluster based on the Danish model. "The Danes some years ago realized that they had many parts to their maritime industry, but many segments were working in isolation from each other and were not benefitting from such factors as economies of scale, synergies, cross fertilization and building on each other's strengths," says Fair. "We believe that if we bring together, in a more harmonious manner, the various segments of our maritime industry this will strengthen our reputation and create future growth and innovation. The Danes achieved this and there is no reason why we can't."
For The Bahamas, Fair envisions a coordinating committee, possibly with a small secretariat, which would cooperate with all interested parties in any broader policy decisions. This way, the GBPA chairman says, costs could be kept down, only requiring some contribution from the private sector through membership, with possibly some public funding.
As well as representing the jurisdiction on an international stage at conferences and exhibitions, the new body would act as a "one stop shop" for those making enquiries about maritime business in The Bahamas, similar to the way the Bahamas Financial Services Board or Bahamas Investment Authority function in their respective fields.
Looking to the future
To further develop, Fair suggests, the industry has to get young people to start believing that they have a future in the sector. "For the maritime sector to bring maximum benefit to the country it must provide Bahamians, especially the young, with jobs that are satisfying and build into worthwhile careers."
In addition to seafaring careers, there are opportunities in many areas such as insurance, financing, shipbroking and law, as well as management and shipowning. "One very important aspect is that the maritime field, like The Bahamas' other major industries of finance and tourism, requires no manufacturing capacity or natural mineral resources. It is based on a small, but appropriately educated, workforce and is therefore an ideal industry for our country to develop."
Since 2011, The College of The Bahamas (COB) Maritime School has been offering three bachelor's degree programmes in collaboration with the State University of New York (SUNY). The joint programme allows students to complete three semesters at COB, followed by four at SUNY, with the final semester being back at COB.
According to Chandler Sands, managing director of Campbell Shipping Company Ltd, there are also plans to establish a Maritime Academy, and talks have been underway with the Bahamas Shipowners' Association to ensure that every Bahamian-flagged ship will have a trained Bahamian on board, which would generate more than 1,500 jobs.
"I strongly believe that the employees are the roots of the industry–where the sustenance comes from," says Sands. "I believe fundamentally that if an institution focuses on training and development it will create creative minds and industry leaders."
A natural location for such further training facilities would be Grand Bahama, says Fair. The island already has major maritime interests situated there, including the Hutchison Port Holdings operated container port, the Buckeye Partners owned BORCO oil storage and trans-shipment facility, and Freeport Shipyard.
Bahamas benefits
The Bahamas also needs to look at how it can develop niche markets within the industry to maximize its assets and skills, says Fair. One way to do this, he suggests, is to look at how other comparable small island states (SIS) have developed their maritime sectors. Cyprus and the Isle of Man, for example, have attracted large numbers of ship management companies, from the UK in the Isle of Man's case and from Europe in the case of Cyprus. The Isle of Man has also developed other finance and insurance business on the back of the UK connection. The Bahamas could do something similar by tapping into the US market, adds Fair.
Singapore has developed an advanced maritime cluster, located as it is on major shipping routes in Asia. It has also successfully exploited the tax regime of Japan to create an attractive haven for Japanese shipowners. Hong Kong has leveraged its cultural and linguistic similarities to target the Chinese shipping market, while maintaining strong maritime trade relations with Commonwealth and European countries.
The Marshall Islands has used its close relations with the US to build a large, global marketing team that promotes all its maritime industries working together.
"Each of these paths, when suitably adapted for the Bahamian situation, offers potential for strong growth," says Fair. "But to achieve growth in the whole maritime sector we need to work together."