Due to the growing economic benefits from the Bahamas Speed Week Revival, Deputy Prime Minister and Minister of Works and Urban Development Philip Davis (pictured) announced that a new racetrack will be built at the Queen Elizabeth Sports Centre to facilitate the 60th Anniversary of the event in 2014.
Officially opening The Bahamas Speed Week Revival 2013, December 4 at Arawak Cay, the Minister also announced that the track would complement the hot rod racing track, which the government had previously built at the sports centre.
"I trust that the various organizations, representing car enthusiasts will work together to expose an even larger audience to this exciting sport at this motor sports arena and to continue to enhance safety and security," said Minister Davis.


He said he was happy to confirm that the government renewed its commitment to lending support to enhancing the cultural and sporting life.
"During the six months of activity preceding the event itself, a great benefit to our community is the boost provided to our economic life represented by the expenditure by the Speed Week organizers with business and contract services, totalling almost one million dollars and rising," Davis said.
"Additionally, hotel room nights have increased by some 20 per cent, with the attendant increase in the income to hotels, restaurants, bars and shops represented by spending by the many extra visitors."
The Minister noted the impending 60th anniversary of the original event at Windsor Field in 1954, before moving to Oakes Field in 1957.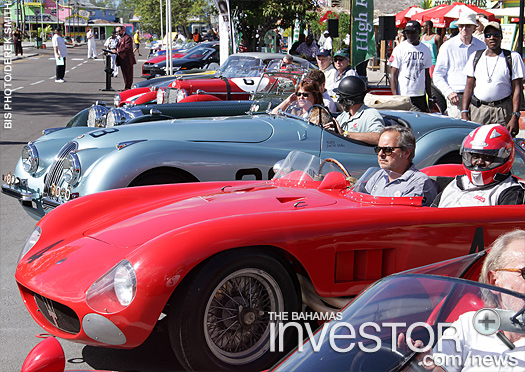 Pictured: Deputy Prime Minister and Minister of Works and Urban Development Philip Davis (red helmet) takes in several laps in a Red 1955 Maserati 200S, driven by Mikel Willms, after he officially opened Bahamas Speed Week Revival. (BIS Photo/Derek Smith)