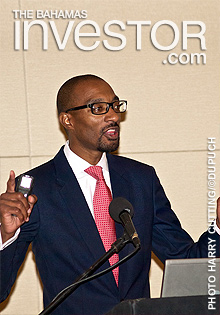 New gaming legislation could pave the way for significant growth in The Bahamas' tourism industry, according to senior vice president and general counsel for Baha Mar Uri Clinton who says a more modern gaming industry, which encompasses new technology, would give The Bahamas the edge over its competitors.
Speaking at a conference held in Atlantis, Paradise Island yesterday, Clinton said the country needed to capitalise on its established tourism industry and branch out to offer visitors something more than the traditional formula of sun, sand and sea. He noted that there are 163 million US residents living within 1000 miles of The Bahamas and said that represented a lucrative market for the country's casinos.
"These people spend money – they gamble, they eat, they sunbathe and they are tourists," he told attendees at the event. "The question is not how are we going to fill rooms as The Bahamas grows and matures. The question is why have we not taken a more aggressive posture because the market is there.

"The Bahamas cannot afford to let these people come here to sunbathe, but go to Atlantic City to gamble."

The government is currently drawing up new leg-islation to allow mobile gaming and sports betting in The Bahamas. The Gaming Bill 2013 will replace the current 1969 Lotteries and Gaming Act and, according to Clinton, will give the country an opportunity to leap ahead of gaming destinations in North America who cannot legally offer those services.
"Times are changing and if The Bahamas continues to do what it has always done, it will get what it had always gotten," he said. "You cannot afford to be sitting on the sidelines. The Bahamas is uniquely positioned to jump ahead of the competition. This is where the industry is heading. You want to get ahead now."
By 2017, mobile gaming is expected to account for $100 billion in annual revenue, according to figures from Jupiter Research. The Bahamas currently nets around $146 million each year from its gaming industry, with annual revenues per casino reaching $48.6 million.
Research from PricewaterhouseCoopers indicates that next year Asia will become the largest gaming destination in the world with annual revenues from that industry reaching $79 billion.
The Bahamas is unique in terms of gaming destinations, according to Clinton who said that the country's natural beauty combined with a modernised gaming industry could give it a significant share of the market. "It definitely is better in The Bahamas. What you have is so unique, so beautiful and so rare.
"If you compare what The Bahamas has to offer with every other one of the gaming jurisidictions, the only thing missing is the regulatory body to support a mature gaming offering."
Clinton spoke at the College of the Bahamas Culinary and Hospitality Management Institute Conference, a three-day event which highlighted issues relating to the region's tourism and hospitality industries. Additional speakers included president of Atlantis, Paradise Island George Markantonis and vice president of corporate finance and treasury at Baha Mar Vaughn Roberts.