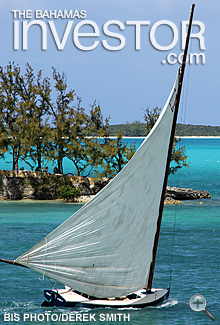 A Bahamian sloop in Elizabeth Harbour in George Town. (Click for enlargement/BIS Photo/Derek Smith)
The 60th National Family Island Regatta will be held in Elizabeth Harbour, Exuma, April 23-27.
Petherina Hanna, general manager of the Exuma Tourism Office, says the regatta is an important contributor to the local economy and the overall tourism product.
"This is a boost for the Exuma economy. You have the selling of food and other items from vendors at Regatta Park. You have car rentals, food stores and other businesses reaping the benefits. So economically, this is going to be an excellent boost," she says.
"From a tourism perspective, the National Family Island Regatta celebrating 60 years is a significant celebration. We are excited about it."

During the regatta, residents and visitors can witness sailing at its best, as well as getting a taste of Bahamian culture through cuisine, art and crafts, as well as entertainment from the Royal Bahamas Police Force Band, the Barretarre Performers, the Exuma Youth Marching Band and several renowned Bahamian entertainers.
"We are happy about the fact that visitors enjoy an event such as the regatta because it is also a cultural event. It is a celebration of sailing; the boats are made by Bahamians living throughout the islands. So, this is a 100 per cent authentically Bahamian celebration," Hanna says.
Danny Strachan, commodore and chairman of the National Family Island Regatta Committee, on the island to oversee final preparations for the event says that 60 years is a tremendous milestone to accomplish.
An estimated 65 boats are expected to compete. About $300,000 is being spent on facilitating the regatta.
The government is a major sponsor together with a number of corporate entities and business people.
"We have been able to meet our budget for this year. A number of our sponsors remained with us even though this has been a very difficult time financially throughout the country," Strachan says.
Family Island administrator for Exuma and Ragged Island Theophilus Cox views the regatta not only as a source of economic income for the island, but also a time for families to come together, meet people from the other islands and visitors, and a prime opportunity to attract potential investors.
"Sixty years is a lifetime for a lot of people and special efforts are being made to honour those who made contributions to the development of the island and that is excellent," Cox says.