Source:
Date:
Updated:

CFO World
Monday, April 22, 2013
Monday, April 22, 2013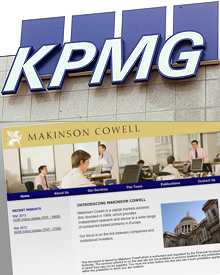 Global consultancy KPMG has agreed to acquire European independent equity markets advisory firm Makinson Cowell, it was announced on Friday.
However, the financial details of the acquisition, which would be subject to regulatory approval, were not disclosed. Going forward, the business will be rebranded as KPMG Makinson Cowell.
It will be chaired by Tom Franks, global head of KPMG's corporate finance business, with the equity and debt advisory elements continuing to be led by Bob Cowell, Howard Coates and Neill Thomas.
This is an excerpt from CFO World as it appeared on April 22, 2013. For updates or to read the current version of this post in its entirety, please click here.

Continue reading this post >