Source:
Date:
Updated:

MICROS Systems
Wednesday, June 19, 2013
Wednesday, June 19, 2013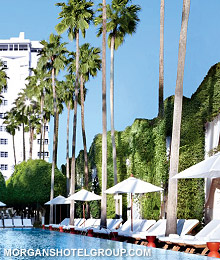 COLUMBIA, MD. June 19, 2013 /PRNewswire/ — MICROS Systems, Inc (NASDAQ: MCRS), a leading provider of information technology solutions for the hospitality and retail industries, is pleased to announce that Morgans Hotel Group has chosen to implement cloud-based MICROS OPERA across its hotel portfolio, which includes 13 locations.  The solution will be hosted in the MICROS US Datacenter.  MICROS OPERA Property Management Solution (PMS) will be implemented initially at Hudson inNew York, and is planned to be deployed at all Morgans Hotel Group properties by the end of 2013.
Situated in midtown Manhattan just steps away from Central Park, Hudson is Morgans Hotel Group's largest property, featuring 866 guestrooms. With MICROS OPERA, Morgans Hotel Group will be able to utilize a more advanced and user-friendly system to manage the day-to-day hotel operations more efficiently.  By implementing a hosted solution, IT can allocate resources to other important areas.

"As Morgans Hotel Group expands our portfolio globally, we couldn't envision a better technology partner than MICROS," statedGustaf Burman, Vice President of Technology for Morgans Hotel Group. "The MICROS OPERA Suite offers incomparable ecommerce capabilities, and provides a solid foundation for Morgans Hotel Group to expand its digital platform, enhancing guest services today and well into the future."
"MICROS is proud to partner with Morgans Hotel Group, which is well known for its innovations in the boutique hotel industry," stated Dan Bell, Senior Vice President Hotel Business Unit for MICROS Systems. "With Morgans Hotel Group properties located all over the world, MICROS is well positioned with both the products and the services the company requires to continue to provide an exceptional boutique hotel guest experience."
About Morgans Hotel Group
Morgans Hotel Group Co. (NASDAQ: MHGC) is widely credited as the creator of the first "boutique" hotel and a continuing leader of the hotel industry's boutique sector. Morgans Hotel Group operates Delano in South Beach and Marrakech, Mondrian in Los Angeles, South Beach and New York, Hudson in New York, Morgans and Royalton in New York, Shore Club in South Beach, Clift in San Francisco, Ames in Boston and Sanderson and St Martins Lane in London. Morgans Hotel Group has ownership interests or owns several of these hotels. Morgans Hotel Group has other property transactions in various stages of completion, including Delano properties in Las Vegas, Nevada; Cesme, Turkey and Moscow, Russia; Mondrian properties in London, England; Istanbul, Turkey; Doha, Qatar and Baha Mar in Nassau, The Bahamas; and a Hudson in London, England. Morgans Hotel Group also owns a 90% controlling interest in The Light Group, a leading lifestyle food and beverage company. For more information please visit www.morganshotelgroup.com.
About MICROS Systems, Inc
MICROS Systems, Inc. provides leading enterprise-wide applications, services and hardware for the hospitality and retail industries. Serving an extensive portfolio of clients worldwide, MICROS solutions are utilized in over 567,000 hotels, casinos, table and quick service restaurants, retail, leisure and entertainment, fuel and convenience, cruise, and travel operations in more than 180 countries, and on all seven continents. MICROS combines its industry knowledge and expertise to provide cloud-based, mobile and on premise solutions that allow its clients to streamline operations and successfully engage their customers.
MICROS applications include point of sale, property management, central systems, business intelligence, eCommerce, loyalty, CRM, loss prevention, distributed order management, labor management, inventory management, and merchandise planning solutions. MICROS services include hosting and SaaS, platform implementation and integration, strategic business consulting, interactive marketing, design services including creative and user experience, and managed services. MICROS stock is traded through NASDAQ under the symbol MCRS.
For more information on MICROS and its advanced information technology solutions for the hospitality and retail industries, please contact Louise Casamento, Vice President of Marketing at (443) 285-8144 or (866) 287-4736. You can also visit the MICROS website at www.micros.com or send an email to info@micros.com.  Follow MICROS on Facebook, LinkedIn, YouTube, and the MICROS Blog.