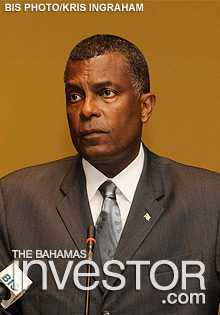 Pictured: Fred Mitchell, Minister of Foreign Affairs and Immigration, addresses students at the 16th Model United Nations Sessions. (BIS Photo/Kris Ingraham)
Mastering international debate prepares future delegates for scholarship and research opportunities in global negotiations, according to Foreign Affairs and Immigration Minister Fred Mitchell.
Speaking at the 16th Model United Nations Sessions (MUNS) April 22, Mitchell encouraged students to inherit a heritage of competence in civics, globalization, communications, and diplomatic relations.
The MUNS session was held at the Crown Ballroom in the Coral Towers at Atlantis Paradise Island.
During his address, Minister Mitchell spoke briefly about the global leadership issues of dealing with climate change in Small Island Developing States (SIDSs).
The 16th MUNS introduced students to the delicate and competitive nature of world diplomacy.

Students competed for a chance to travel to New York City to watch Minister Mitchell address the United Nations General Assembly, when it convenes this year.
Minister Mitchell said the General Assembly will focus on climate change and that the issue is now being taken from the specialized restricted multi-lateral treaty discussions to full global world attention.
"When you think that in The Bahamas, 80 percent of our land mass or thereabouts are just about five feet above sea level, you realize the scale of the potential problem if there's a shift in the level of the sea. So we need to engage The Bahamian population more in a discussion about this issue."
Minister Mitchell added that it was important for students to understand the complexity of international diplomacy and decision making.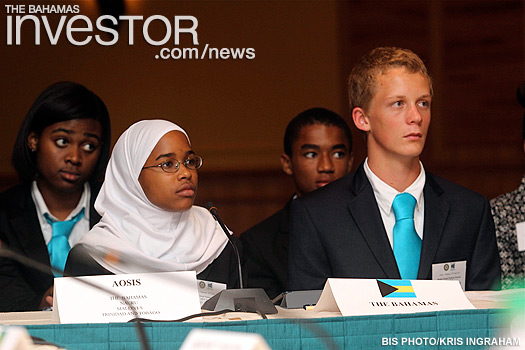 Students prepare for the mock debate. (BIS Photo/Kris Ingraham)