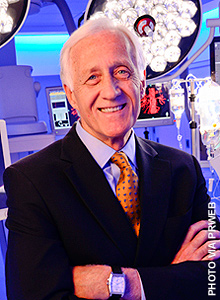 FREEPORT, The Bahamas December, 2013 (PRWEB) — Okyanos Heart Institute has announced that its chief science officer, Leslie Miller, M.D., F.A.C.C., will address the International Stem Cell Society (STEMSO) Global Conference to be held at the Grand Lucayan Resort in Freeport, Grand Bahamas, February 19-22, 2014. Dr. Miller, one of the foremost experts in adult stem cell therapy for heart failure, will be speaking about adipose-derived stem and regenerative cells to treat cardiovascular disease on Thursday, February 20 from 1:45 to 2:30 PM. The conference, titled "Bridging the Gap: Research to Point of Care," brings together medical scientists, clinicians, ethicists, regulatory experts, and investors to discuss progress in the field of research and clinical protocols.

Dr. Miller is an internationally renowned cardiologist and expert in the field of heart failure and transplantation. He has served as an investigator in over 80 clinical trials, including the use of stem cells derived from fat tissue to treat heart disease. He is formerly the director of the University of South Florida (USF) Heart Institute, and professor of cardiovascular sciences at the USF Health Morsani College of Medicine and is published in numerous clinical journals. Dr. Miller previously served as the director of the cardiac programs at Georgetown University School of Medicine, Georgetown University Hospital and Washington Hospital Center. Prior to that, he was a professor and director of the cardiovascular division at the University of Minnesota. He has received numerous teaching awards from both fellows and residents, including teacher of the year in internal medicine and the Proctor Harvey Chair.
"In this session, I will share a summary of the latest clinical findings in adipose-derived regenerative cells (ADRCs) for cardiovascular disease," said Miller. "Bone marrow as a source of stem cells has been studied in clinical trials for many years now, and we can now share what we have learned about fat cells as a source, and how they compare and contrast. This will be important information as we carefully maneuver into treatment of patients outside of clinical trials."
"We are proud to host this conference in The Bahamas," said Douglas Hammond, president of STEMSO, "with the agenda consisting of many of the foremost authorities in the world on stem cell therapy and healthcare regulations and ethics, we are sure to have a productive and informative conference."
Other prominent speakers will include Minister Dr. Perry Gomez and Amit Patel, M.D., B.S., M.S.. Dr. Gomez is the Minister of Health for The Bahamas. Dr. Gomez is known globally for his work on HIV/AIDS research, being the founder and director of the National HIV Programme of the Bahamas. In 2010, Dr. Gomez was the recipient of the Pan Caribbean Partnership (PANCAP) Award of Excellence or his contributions to medicine. Dr. Patel is director of clinical regenerative medicine and tissue engineering at the University of Utah. In 2002, he led a "breakthrough" study demonstrating that stem cell transplantation could treat congestive heart failure. Currently, Patel is national lead investigator for Aastrom Biosciences to treat cardiomyopathy both ischemic and non-ischemic using adult stem cells in the U.S. He is also lead investigator for a number of trials to use adult stem cells to treat limb ischemia (inadequate blood flow to the leg). He has started collaborative programs in Peru, Argentina, Ecuador, Germany, and India. Dr. Patel will be discussing the use of stem cells for heart failure.
ABOUT OKYANOS HEART INSTITUTE: (Oh – key – AH – nos)
Based in Freeport, The Bahamas, Okyanos Heart Institute's mission is to bring a new standard of care and a better quality of life to patients with coronary artery disease using cardiac stem cell therapy. Okyanos adheres to U.S. surgical center standards and is led by Chief Medical Officer Howard T. Walpole Jr., M.D., M.B.A., F.A.C.C., F.S.C.A.I. Okyanos Treatment utilizes a unique blend of stem and regenerative cells derived from one's own adipose (fat) tissue. The cells, when placed into the heart via a minimally-invasive catheterization, stimulate the growth of new blood vessels, a process known as angiogenesis. The treatment facilitates blood flow in the heart and supports intake and use of oxygen (as demonstrated in rigorous clinical trials such as the PRECISE trial). The literary name Okyanos ("Oceanos") symbolizes flow. For more information, go to www.okyanos.com
The International Stem Cell Society, STEMSO, is a member-based, international, non-profit 501(c) 6 trade association for the purpose of promoting the interests of the global, adult stem cell healthcare industry while linking patients and stakeholders with member medical organizations. STEMSO provides information, education, resources, advocacy and public awareness for the advancement of the adult stem cell industry. For more information, go to www.stemso.org