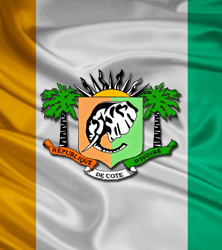 Daouda Diabaté, Ambassador-Designate of the Republic Côte d'Ivoire, presented Letters of Credence to Sir Arthur Foulkes, Governor General of he Commonwealth of The Bahamas, during a ceremony at Government House April 11, 2013.
"The Republic of Côte d'Ivoire and the Commonwealth of The Bahamas have enjoyed friendly and cordial ties since our establishment of diplomatic relations June 27, 1988," said Sir Arthur.
He noted that while the history of both countries may vary considerably, both share common membership in a number of organizations, including the United Nations (UN) and the African, Caribbean and Pacific Group of States (ACP).

"I am confident that the bilateral relations between The Bahamas and Côte d'Ivoire can reap rewards which would mirror the same level of success derived from multilateral institutions to which our respective countries belong," the Governor-General said.
He also expressed confidence in, and admiration for, the developments of that country, which has come from civil war to reconciliation in less than two years to focus on reconstruction, economic and social renewal and renewed aspirations for regional leadership.
"I shall assure that your stated interest in technical assistance and greater collaboration for deepened bilateral relations and mutual benefit in the areas of tourism and financial services will be conveyed to the appropriate authorities," said Sir Arthur.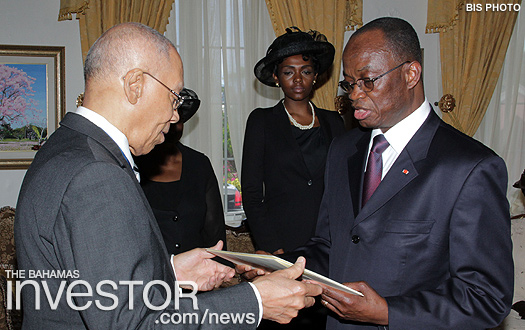 Daouda Diabaté (right), Ambassador-Designate of the Republic Côte d'Ivoire, presents Letters of Credence to Sir Arthur Foulkes, Governor General of the Commonwealth of The Bahamas, during a ceremony at Government House April 11, 2013. (BIS Photo)