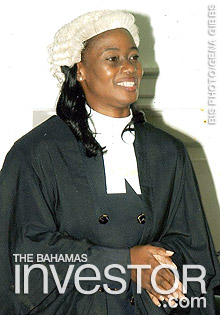 Sharmie Farrington-Austin. (BIS Photo/Gena Gibbs)
The Ministry of Finance has confirmed the appointment of Sharmie Farrington-Austin as the new Data Protection Commissioner of The Bahamas.
The attorney-at-Law, with 23 years experience in legal, regulatory, administrative and human resources issues, is responsible for the administration and enforcement of the provisions of the Data Protection (Privacy of Information) Act, which provides The Bahamas with the necessary data protection legislation that is recognized by the international community.
The duties of the new Data Commissioner will also include investigation of any contraventions of the legislation, and the provision of information to the public about the legislation.

The Data Protection Act will increase The Bahamas' profile as an international commercial centre, potentially positioning it as a preferred jurisdiction for locating data services.
In 2003, the Bahamas government introduced a series of acts designed to facilitate the development of e-commerce and e-government, including the Electronic Communications Act and the Computer Misuse Act.
The legislation ensures internationally recognized standards for the collection, use and disclosure of personal information.