The Bahamas' annual Agricultural, Agribusiness and Marine Resources Expo was officially opened yesterday by Prime Minister Perry Christie, who called for more investment in the agricultural sector in order to grow The Bahamas' export market.
During his opening address, the Prime Minister said that the country should be taking advantage of The Bahamas' expertise in the industry and exporting homegrown goods and produce, as well as reducing its own reliance on imports.

"We import 90 per cent of what we consume," he said. "The challenge to our country is to see the extent to which we are able to cut into that export bill."
The opening ceremony also heard from executive chairman of the Bahamas Agricultural and Industrial Corporation Arnold Forbes, who praised the work of the Expo steering committee in organizing the event.
"The global economic challenges of the past five years are still with us. Over the past four years the steering committee has succeeded against all odds in producing some of the greatest expos this country has ever seen."
"Each year we have succeeded in an incredible way in showing The Bahamas what is out there and what is grown and made in The Bahamas."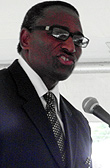 This sentiment was echoed by Minister of Agriculture, Marine Resources and Local Government Alfred Gray (pictured), who called the expo "remarkable" and said it had cost the Ministry "hundreds of thousands of dollars."
"We are going to make agriculture the fourth pillar of our nation's economy within the next five years," he said and added that the government was establishing an agricultural school and a marine science school in Andros to stimulate the industry.
The Expo, which runs until March 9, will showcase the best of Bahamian produce at the Gladstone Road Agricultural Centre where over 170 booths have been set up by local producers and entrepreneurs. It also features workshops, cultural displays, presentations, seminars, handicrafts and livestock.
The programme this year will also include celebrations of the country's 40th anniversary of independence.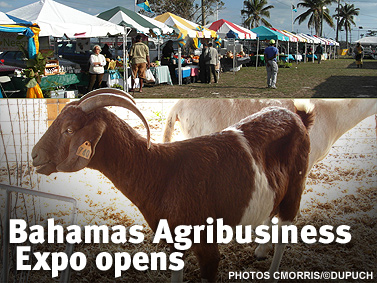 cmorris@dupuch.com