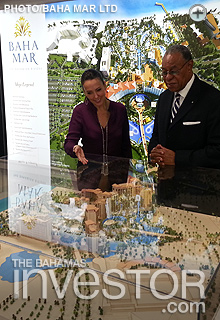 Pictured: (click to enlarge) Beth Dean-Pope (left), regional director, Baha Mar Ltd, shows the High Commissioner around the new Baha Mar offices in London March 27. (Photo Credit: Baha Mar Ltd)
Eldred Bethel, High Commissioner, toured the newly opened Baha Mar offices in central London at the end of last month.
Beth Dean-Pope, regional director, Baha Mar Ltd, showed the High Commissioner and his wife Dawne Bethel around the new offices located at 170-173 Piccadilly, London.
Baha Mar Ltd established an office in central London in order to raise awareness in Europe and the Middle East of the Baha Mar resort currently being constructed on Cable Beach in The Bahamas.
The offices will act as its European headquarters for the sales of the Baha Mar residences.