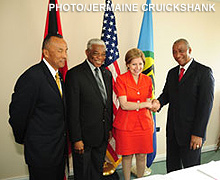 Pictured: Deputy Assistant Secretary of Western Hemisphere Affairs Liliana Ayalde, second from right, shakes hands with Francis Forbes, right, executive director of Caricom's Implementation Agency for Crime and Security (IMPACS), following the launch of the US Assistance to Combat Arms Trafficking in the Caribbean at Caricom IMPACS headquarters in Port of Spain. Standing with Ayalde are Deputy Assistant Director of the US Bureau of Alcohol, Tobacco, Firearms and Explosives John Torres, left, and Bahamas National Security Minister Bernard Nottage. (Photo/Jermaine Cruickshank)
The United States will be providing $3.43 million for a programme to combat illicit trafficking in firearms in the Caribbean, which will include forensic training and officer exchange programmes.

The programme, part of the Caribbean Basin Security Initiative (CBSI), was launched December 5 at the headquarters of the Caribbean Community (CARICOM) Implementation Agency for Crime and Security (IMPACS) in Port of Spain. It is being spearheaded by the US Department of State and the US Department of Justice's Bureau of Alcohol, Tobacco, Firearms and Explosives (ATF).
ATF deputy assistant director John Torres said his bureau "will bring our expertise and assist those in this country and in the area to maintain citizen safety throughout this initiative."
He listed the five initiatives of the ATF strategy:
conduct assessment of the scope of the regional trafficking problem in 17 nations "facing the most significant issues";
establish a forensic training programme and "explore the feasibility of a Caribbean forensic academy";
provide expert legal assistance to ensure nations have established an effective anti-trafficking programme for small arms;
provide two "regional firearms advisors" in the Caribbean to render on-site assistance;
the exchange programme.
Torres explained the exchange programme will permit law enforcement officials to work for short intervals in the US.
Deputy Commissioner of Police Mervyn Richardson, who was in attendance at the ceremony, said the initiatives were welcome and the Police Service "will make maximum use" of them.
Third Caribbean-United States Security Cooperation Dialogue in Port of Spain runs December 3-6.