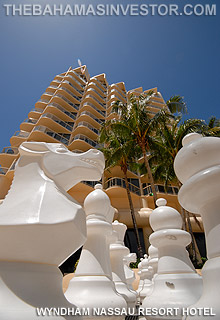 Medium size hotels such as the 700-room Sheraton Nassau Beach Resort, the 850-room Wyndham Nassau Resort Hotel and the British Colonial Hilton have exceeded occupancy forecasts by an "unprecedented level" through December and so far in January, according to Robert "Sandy" Sands, immediate past president of the Bahamas Hotel Association (BHA).
Sands, who relinquished office in 2010, served as BHA president for over six years–longer than any other individual in the organization's 60-year history.
He called the rise in demand an "encouraging sign."
"We are hoping certainly that the amount of inquiries to our call center continues, because that augurs well for an industry that has been somewhat stagnant for a long period of time, so we are very encouraged by those results," said Sands, who is now the senior vice president of government and external affairs for the $3.5-billion Baha Mar development.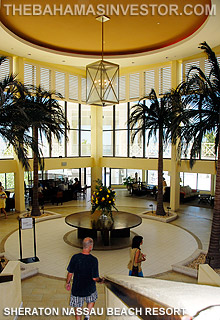 Sands remarks came Tuesday during the Q&A session of a Caribbean Hotel and Tourism Association's Caribbean Marketplace press conference.
According to Joel Grossman of the Nassau Paradise Island Promotion Board that trend is also holding true for small properties. 
The Board helps member properties to market themselves. Its small properties members (those with 90 rooms or less) include Best Western Bay View Suites, Paradise Island Beach Club, Paradise Harbour Club & Marina (both timeshares), the Graycliff Hotel, Sunrise Harbour Beach Club & Villas and the Marley Resort & Spa.
"The perfect example is the 14-room Marley Hotel," said Grossman. "When it first opened it was not doing well at all, but in the month of December they literally had no rooms available and I don't think they are going to have any rooms available in January."
Best Western has also recorded similar success. "They have a good corporate base of people that have yearly and monthly rentals. Paradise Island Beach Club, because it's a time share, run about 90 per cent occupancy. Paradise Island Harbour Club Marina, its occupancy runs around 85 per cent year round."
Meantime, the elegant 20-room Graycliff continues to attract a European market. Their occupancy runs around 75 per cent year round, according to Grossman.
In its latest Monthly Economic and Financial Developments report released late last month, The Central Bank of The Bahamas noted that preliminary data from a sample of hotels in New Providence and Paradise Island pointed to "moderate improvement" in tourism output in November, due to the Thanksgiving holiday traffic, significant sporting events and various promotional activities.
This led to broad-based gains in revenues. Hotel occupancy grew by 8.9 per cent to stand at 63.9 per cent. There was also a $3.69 hike in the daily average room rate to $201.23. 
Central Bank has yet to release its December report.
tblair@dupuch.com