As posted on The Bahamas Investor's Facebook page and Twitter, Kerzner International has announced that Sir Sol Kerzner has stepped down as chief executive officer, but will remain as chairman.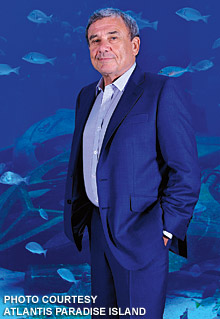 Alan Liebman, who joined the company in 1992, has assumed the post.
Liebman was chief operating officer at the Atlantis Paradise Island resort in The Bahamas, before becoming regional president of Europe, Africa and the Middle East.
"Over the last 17 years Alan has contributed extensively to Kerzner's success, and his vast experience in this industry makes him an ideal chief executive to lead Kerzner into the future," Sir Sol said last week.
"Alan has a great deal of passion and commitment to both our employees and our guests. As chief executive, Alan will lead the executive management team and will be actively engaged in all aspects of the business. I firmly believe this new organisational structure and focus will best ensure the future success and growth of Kerzner International."

Liebman added: "Working closely with Sir Sol and the executive management team, we will continue growing Kerzner as a management company, and getting back to doing what we do best–designing and managing world-class destination and luxury resorts under the Atlantis and One&Only brands. Kerzner has the best and most talented workforce across multiple continents, and I look forward to working with them for many years to come."
The move follows the announcement in November that Canadian multinational Brookfield Asset Management would be acquiring the Atlantis Paradise Island resort and One&Only Ocean Club in a debt-for-equity swap.