AML Foods Ltd has announced that it has entered into a definitive development agreement with CKE Restaurants Inc to bring the Carl's Jr. franchise to The Bahamas.
Under the agreement the company will develop a number of restaurants over the next five years, the first of which is expected to open later this year.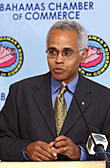 Dionisio D'Aguilar, chairman of AML Foods Ltd said: "We are very excited about our partnership with CKE Restaurants and the great opportunity it provides for both top and bottom line growth for our company. Our newest venture will bring additional synergies directly to our franchise division, as well as to our overall company, as we continue to expand our sales base without corresponding increases in our central costs."
"The Bahamas is an attractive quick service restaurant market and AML's strong track record in consumer retailing and the food services industry makes them an ideal partner for us," said Ned Lyerly, executive vice president of global franchise development at CKE Restaurants. "We share their core values of exceeding consumer expectations for quality, value and service and know that the Carl's Jr. brand will be well received in The Bahamas."
As of the end of Q3 fiscal 2011-12, CKE, through its subsidiaries, had a total of 3,219 franchised, licensed or company-operated restaurants in 42 US states and in 23 countries, including 1,292 Carl's Jr. restaurants and 1,917 Hardee's restaurants with annual sales of $3.4 billion. CKE continues to place a major emphasis on expanding its international presence and now operates more than 419 franchise restaurants outside of the US.
AML Foods has also recently announced that it has entered into agreements with its preference shareholders to restructure its preference share debt.
Under the terms of the restructuring, the maturity date of the preference shares has been extended from December 2015 to December 2022 and the interest rate has been reduced from 8.0 per cent to 7.25 per cent. The new agreement became effective January 1, 2012.
In addition to the restructuring of its existing debt, AML Foods has issued a further $4.28 million of Class B preference shares, under the revised terms. The funds will be used primarily to finance the company's new Carl's Jr. franchise.