In light of the recent news concerning the ownership of Atlantis Paradise Island mega resort and the One&Only Club, the Prime Minister of The Bahamas Hubert Ingraham made a public statement at the end of last week underscoring his government's commitment to protecting jobs in the tourism sector.

"We continue to monitor events and assist where appropriate and helpful. Our overriding responsibility is for the protection of Bahamian jobs and the long- term viability of Atlantis," Ingraham told an audience on January 19.
"It is one of the leading resorts in the Caribbean, if not the leading one. It has been good for The Bahamas and it has a good future."
The Prime Minister told the gathering at the political headquarters of Environment Minister Earl Deveaux that this is a time for caution and restraint, clear thinking and calm heads.
"Have no fear. No jobs are being lost. The owners are coming to terms amongst themselves. In the meantime, until something happens between the lenders, [Sir Sol] Kerzner still owns Atlantis. He's still running Atlantis. We were happy with him last year. We are happy with him today."
"We have your best interest at heart and we are connected, we are involved, we are engaged and you can put your trust in us," the prime minister added.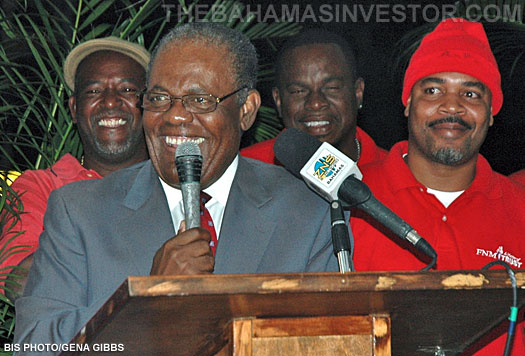 Prime Minister Hubert Ingraham makes a public statement on Atlantis last week. (BIS Photo / Gena Gibbs)