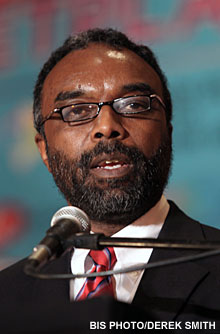 Last month was one of the most successful in the tourism calendar, according to Minister for Tourism and Aviation Vincent Vanderpool-Wallace.
The Minister, who spoke at the 30th Caribbean Marketplace conference at Atlantis Paradise Island today, said there had been a strong surge in business during November and December 2011.
"December was the best month ever in terms of room revenues," he enthused. "It was an incredible month."
In December air arrivals rose 7.1 per cent year on year and were up 15.9 per cent in Grand Bahama.
The Minister was careful to stress that these were unofficial figures, but indicated that he expected a bumper year for tourism in 2012 and said the sector was rebounding well after a drop off caused by Hurricane Irene in August 2011.

He also said the Ministry of Tourism's companion air fare initiative, which gave passengers two tickets for the price of one, had been very successful.
"I stopped counting when we got to half a million room nights. The principal access for our primary visitor is by air and we have found that there is nothing that stimulates travel like low cost, high frequency air connection."
To encourage further growth in the industry, the Ministry is also exploring sports tourism.
"We have decided that there is a great opportunity for us to develop sports tourism in terms of amateur sports. These events are becoming far more important in terms of developing our business," said Vanderpool-Wallace, who noted that the new multi-million dollar national stadium would open in Nassau next month and could host large scale international events.
The Caribbean Hotel and Tourism Association's Caribbean Marketplace runs until January 24 and brings together tourism sector buyers and sellers from all over the Caribbean.
cboal@dupuch.com