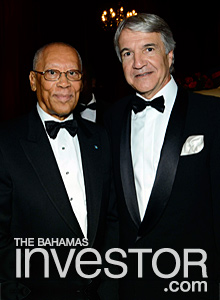 Bahamas Speed Week Revival organizers announced last week that Pictet Bank and Trust will once again sponsor the Speed Week Ball and Auction of Promises to be held December 1, with proceeds of the auction benefitting four Bahamian charities.
"Pictet's presence once again adds prestige to a series of events already promising to be the sporting and social highlight of the year, Bahamas Speed Week 2012," said Jimmie Lowe, Speed Week president.
The Swiss private bank sponsored the event last year, when Bahamas Speed Week was revived after a 46-year hiatus. The Auction of Promises gala event raised more than $40,000 for four local charities.

"We are very proud to be an integral part of Bahamas Speed Week Revival," says Yves Lourdin, managing director, Pictet Bahamas.
"Its charitable component holds great appeal to us as an international leader in private wealth and institutional asset management."
The Auction of Promises will be held at the Sheraton Nassau Beach Resort. Benefitting charities will be announced shortly.