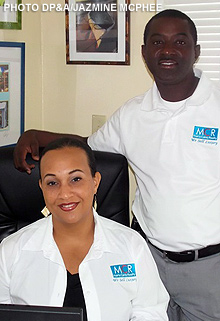 Relocation experts Lamond and Robyn Davis (left) have been identified to spearhead the Relocation Division of Mario Carey Realty. (DP&A Photo/Jazmine McPhee)
Mario Carey Realty (MCR) has created a relocation division, naming the husband and wife team of Lamond and Robyn Davis to work with individuals and families who are moving anywhere from five blocks to 5,000 miles away.
"There is probably no segment of the real estate industry that is more personal or emotional than relocation," says founder Mario Carey.
"The fact is that re-settling can be very unsettling," Carey continues. "So we are very fortunate to have identified the team of Lamond and Robyn Davis who understand what it takes to make relocation a rewarding experience, so clients look at relocation not as the end of an old chapter, but the beginning of a new, exciting time in their lives."

The relocation division is the latest in a series of expanded services by Mario Carey Realty, founded in 2008. In the last year, the firm has launched a multilingual vacation division, property management division, increased its appraisal staff, expanded to Abaco and Bimini, successfully called for a reduction in Stamp Tax and was the first firm to handle the sale of a Baha Mar residence locally.