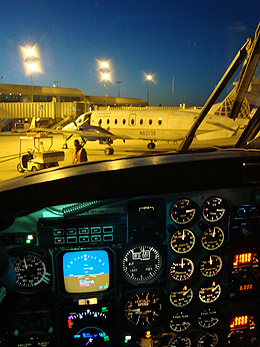 Two senior lawyers have called for the creation of a Bahamas Aircraft Registry, saying it could foster a host of related business and industries, creating jobs and spurring economic diversity.
"Discussions of a Bahamas Aircraft Registry have been going on and off for years," says Callenders & Co senior partner Colin Callender.
"The establishment of a registry always seemed to be desirable, but distant. Today, there is a heightened sense of readiness and urgency. Thus, we at Callenders & Co are willing to take the lead in driving the process for the creation of a Bahamas Aircraft Registry without which we will continue to lose market share to other jurisdictions such as the Cayman Islands and Aruba, which are equipped to be one-stop shops for high-net-worth individuals (HNWIs) and with which we can diversity the economy, create jobs and potentially create an entirely new industry."

Callenders has stepped to the forefront in the effort to urge establishment of a registry in part because one of its senior associates, Llewellyn Boyer-Cartwright, a 29-year veteran commercial pilot and flight instructor, has just become the first Bahamian to be admitted to the Lawyer Pilots Bar Association.
According to the pilot-turned-lawyer, The Bahamas is "perfectly situated" to create a registry.
"The person who owns a mega-yacht he can now register in The Bahamas is likely to have a private aircraft, most likely a jet, that he'd like to register here as well and he may even own a second or third home," says Boyer-Cartwright, who joined Bahamasair at 19 and flew for major international carriers before turning his attention to law.
"He wants to do all of his business with one firm and within one jurisdiction whose politics and policies, language and culture he understands."
"However, if we are unable to meet those needs, we are in effect driving business to competing jurisdictions where they can be accommodated and by doing that we are potentially losing out on real estate transactions, vacation spend, indirect revenue and other investment opportunities. The time has come to stop talking and start doing."