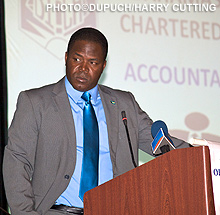 Pictured: Minister of State for Investments Khaalis Rolle speaking Friday, November 9th — the final day of Accountants Week in Nassau. (Photo ©Dupuch/ Harry Cutting)
Pursuing foreign direct investment (FDI) is a key priority for the government in developing a national economic strategy, according to Minister of State for Investments Khaalis Rolle.
Speaking today at Accountants' Week, Minister Rolle said foreign investors injected $1.5 billion into the Bahamian economy last year and the government was committed to increasing this figure.
"An economic development plan for The Bahamas will include a strong commitment to maximizing the returns from FDI," he said. "FDI will continue to be a major driver of the Bahamian economy for the foreseeable future."

The Minister acknowledged that competition for investment has grown in recent years, due to the depressed economic climate, and highlighted Jamaica and the Dominican Republic as major competitors.
In order to attract investors, the government will engage in "investment missions" to target new markets, and will consult with the private sector to ensure all areas of the economy benefit.
"The Bahamas will have to be more proactive in seeking out foreign investors. We have to determine where the opportunities are and find the investors that can help us expand those opportunities," Minister Rolle said.
"We want to get everybody involved, so that we paint a true picture where the opportunities are and so the net benefit is a lot higher than it has been in the past."
In addition to these steps, the government is looking at ways of making it easier to do business in The Bahamas. "We have to plan a lot better than we have been doing and look at the areas that are bottlenecks," said the Minister.
These measures are part of the government's wider national economic development strategy, which Minister Rolle said would be developed with significant input from the private sector. He added that factors such as high energy costs and the country's reliance on imports would be taken into account, as well as other industry concerns.
cmorris@dupuch.com