A number of Family Islands will receive new infrastructural works and refurbishment, Deputy Prime Minister and Minister of Works and Urban Development Philip Davis said June 13, during his contribution to the 2012-2013 Budget Debate, at the House of Assembly.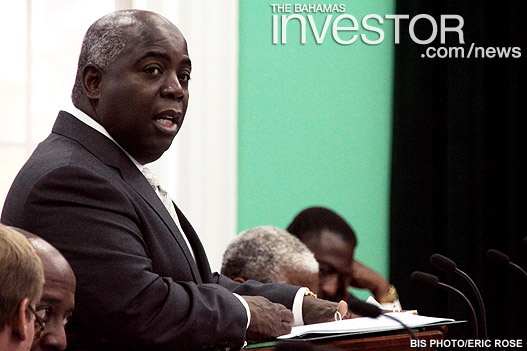 Deputy Prime Minister and Minister of Works and Urban Development Philip Davis speaks in the House of Assembly during his contributions to the 2012-2013 Budget Debate June 13, 2012. (BIS Photo / Eric Rose)

"The Water and Sewerage Corporation has identified that Cat Island might be best served by three reverse osmosis systems, though a single plant might be feasible as well," said the Deputy Prime Minister.
"The provision of safe, potable water to the communities of Cat Island will finally begin in earnest in the short term."
Deputy Prime Minister Davis added that the roads in Cat Island will be rebuilt and restored and the "long talked about" centre road will be considered as an alternative means of traversing from north to south.
Also in Cat Island, he said that the Smith's Bay dock will be repaired; the New Bight airport will be provided with a suitable terminal building; a primary clinic providing "a higher level of services and facilities" will be created, along with the renovation of the Smith's Bay Clinic and the repairs to the morgue.
In Rum Cay, residents will be provided with a medical clinic and a new high school and primary school will be built in San Salvador.
Davis added that San Salvador's roads will be "properly" rebuilt where necessary, the government's affordable housing project in Cockburn Town, San Salvador will be re-started and expanded; and, the necessary transmission lines will be put in to provide safe, potable water to Long Bay and Sugar Loaf from the Cockburn Town desalination plant.
He said that the Bahamas Electricity Corporation (BEC) will review the opportunities for further inter-connection of stand alone sites, so as to reduce the number of power stations throughout the Family Islands. At present, a number of Cays are connected via submarine cables.
"An example of this is the recent construction of an overhead line connecting North Andros to South Andros. This would eventually result in just one power station supplying both North and Central Andros, as compared to two."
Deputy Prime Minister Davis said that a review of smaller operations, such as Long Cay, where the load/demand is very low, will be carried out to determine whether or not renewable energy such as solar or wind is more suitable as compared to traditional power generation.
When speaking of other projects by the Water and Sewerage Corporation, Deputy Prime Minister Davis said that consideration is being given to projects for Salt Pond, Long Island and William's Town, Exuma.
"The corporation has crafted a Development Plan for the Family Islands, which is presently being reviewed as part of the government's commitment to provide as the earliest opportunity safe potable water to every community," he said.