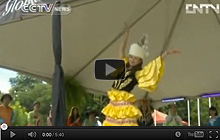 Taking a look at the annual International Cultural Festival, where enterprises and artists from more than 20 countries including Cuba, Canada and Peru are proudly showcasing their cultural traditions at the local Botanical Gardens.

This year, exquisite Chinese ethnic costumes have become one of the festival's major highlights.
Sample Haitian coffee, sip local brews and indulge in delicious seafood. With arts and crafts on display, there's something for everyone here at the 17th Bahamas International Cultural Festival.
And of course there are stage performers representing a variety of countries that showcase their unique cultural traditions. As artists from China display the beautiful and exotic costumes of its 56 ethnic groups, all eyes are drawn to them.
Ernesto Guzman, Cuban Ambassador to the Bahamas, said, "It is a very good opportunity for the people of the Bahamas, to show and to share their values with foreign cultures, like the Chinese culture, and the Cuban culture, the countries that participate in the beautiful event."
The magnificent event creates authentic experiences for tourists to enjoy through native cuisine, booth displays, dancing and singing. The Botanical Gardens are transformed into a truly festive setting.
Originally conceived of to recognize "United Nations Day", the festival aims to foster friendly relations and understanding between Bahamians and the international resident community. It was launched in 2007, but has become one of the hottest tourist attractions in the Bahamas. More than 30-thousand tourists from across the world are expected to take part in the festival this year.
Source: People's Daily Online