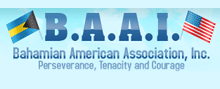 NEW YORK, NY (August 6, 2012) – The Bahamian American Association Inc (BAAI) will turn 100 years old next month.
Established September 17, 1912, by 10 people of Bahamian ancestry, the organization was created in the hope of filling the needs for fellowship and community among Bahamian families in the New York area.

The 10 Bahamians who founded the association were Austin Wilson, Rubin Clinton, Charles Sawyer, Bruce Roberts, Frank Russell, Robert Carey, Arthur Minnis, Edward Brown, Henson Styles, and Willie White.
The association is headquartered in Harlem, Manhattan.
BAAI's 100th anniversary will be celebrated with a Gala Banquet on September 15, 2012, at Astoria Manor.
A Service of Thanksgiving will also be hosted by Bethany Baptist Church at 11 am September 16, 2012.