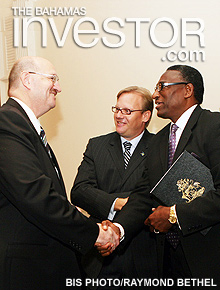 The Bahamas' efforts towards World Trade Organization (WTO) membership won commendations from the United States Embassy during a four-day WTO technical training programme this week.
The WTO Sanitary and Phytosanitary (SPS) Enquiry Point and National Notification Authority Training Conference is sponsored by the US Department of Agriculture (USDA) and started September 11 at the British Colonial Hilton, Nassau.
"This nation has made considerable progress since it began laying the ground work for WTO accession more than 10 years ago," said US Embassy Charge d'Affaires John Dinkelman.
At the second meeting of the Working Party on the Accession of The Bahamas, in Geneva in June, The Bahamas' trade regime and trade-related reforms were assessed and its conformity with WTO rules examined.

WTO members praised The Bahamas for the considerable progress it has made in undertaking reforms to bring it in line with WTO agreements, said Dinkelman during Tuesday's opening session.
"However, the group noted the need for the establishment of necessary enforcement infrastructure."
The participation in the technical training sessions, he said, demonstrates the government's "strong commitment to putting that necessary regulatory infrastructure in place to become a member of this global body."
The Bahamas is the only country in the Western Hemisphere without WTO membership.
Minister of Agriculture, Marine Resources and Local Government Alfred Gray said that WTO agreements can raise the standards of local and imported goods.
"It will also provide a platform of increased opportunities to export Bahamian agricultural, fisheries and forestry products," he said.
The series of workshops have been designed to inform Bahamian decision-makers of the issues associated with WTO accession.
Delegates include representatives from the Ministry of Financial Services whose portfolio include international trade, the Department of Agriculture, the Department of Environmental Health Services, and the US Department of Agriculture (USDA).
The workshop is the first of multiple technical trainings and dialogue with Bahamian officials on the development and implementation of food safety and animal health regulatory systems required for WTO accession, stated the US Embassy .
The SPS Agreement lays out principles and obligations of countries seeking to maintain appropriate protections related to food safety and animal health.
Minister of Financial Services Ryan Pinder noted that with access to 150 countries, The Bahamas stands to benefit "tremendously" from WTO membership.
"Our geographic position makes The Bahamas a launching pad to some of the largest nations and strongest emerging economies in the world," he said.
"Securing market access will strengthen our ability to attract investors and ultimately diversify our economy."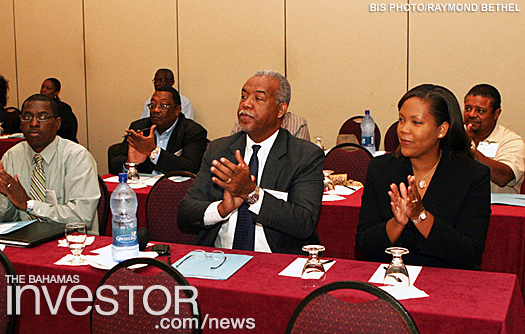 Delegates from various government Ministries attend WTO accession talks ongoing at the British Colonial Hilton. (BIS Photo/Raymond Bethel)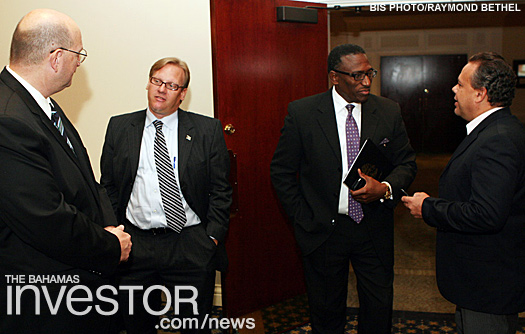 Inter-American Institute for Co-operation on Agriculture Bahamas representative Manuel Messina (right) and Agriculture and Marine Resources Minister Alfred Gray, and US Charge d'Affaires John Dinkelman (left) and Minister of Financial Service L. Ryan Pinder at the sidelines during WTO talks ongoing at British Colonial Hilton. (BIS Photo/Raymond Bethel)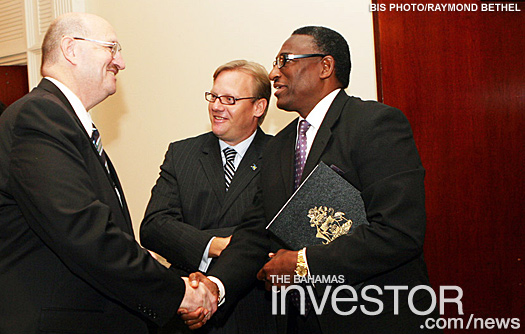 Minister of Agriculture, Marine Resources, and Local Government Alfred Gray (right), and US Embassy Charge d'Affaires John Dinkelman (left) meet during the WTO accession talks ongoing at British Colonial Hilton. At centre is Minister of Financial Services Ryan Pinder. (BIS Photo/Raymond Bethel)