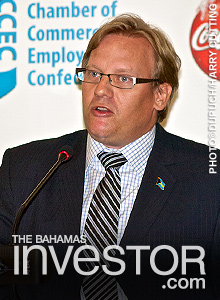 Pictured: Hon Ryan Pinder speaking at the National Conclave of Chambers of Commerce. (Photo Harry Cutting/©Dupuch)
The Bahamas needs to become a full member of the World Trade Organization (WTO) to allow it to trade on an equal footing internationally, according to Minister of Financial Services Ryan Pinder, who said the government is pushing ahead with its bid for accession through ongoing negotations with various members countries.
The Minister spoke of trade as "a powerful avenue for economic diversification" and said that Bahamian businesses would feel the trickle-down effects of becoming a WTO member.
Addressing the National Conclave of Chambers of Commerce in The Bahamas this week, Minister Pinder said strengthening The Bahamas' trade links would also be beneficial for the burgeoning arbitration sector in the country.

"The Bahamas is perfectly positioned to host these trade disputes," he said, adding that this would create numerous opportunities in the private sector.
The National Conclave of Chambers of Commerce ran April 2-3 and took place at the Breezes Resort, Nassau. Additional speakers included Prime Minister Perry Christie and Minister of State for Finance Michael Halkitis.