The Prime Minister and Finance Minister Hubert Ingraham has released a proclamation marking the month of November 2011 to be Compliance Professional Month.
The announcement coincides with the 12th anniversary of The Bahamas Association of Compliance Officers (BACO).

BACO was established in 1999 to provide training and support for compliance professionals practicing in The Bahamas.
"BACO, in observance of its 12th anniversary, has planned a number of activities designed to highlight the work of the organization and to sensitize the general public of the important role in plays in the Bahamas' Financial Sector," reads the proclamation.
The organization's role as a supporting body has become even more imperative since its inception, as the international community has stepped up measures to address issues of money laundering and terrorist financing.
"The Bahamas is both determined and committed to preserve and improve its competitive edge as a premier jurisdiction for the provision of banking and financial services," says the document.
"The Bahamas has introduced and continues to upgrade its legislative and regulatory regime to address the issues of money laundering and terrorist financing."
BACO will be holding seminars, roundtable discussions and other events throughout the month.
Read the entire proclamation by the Prime Minister here.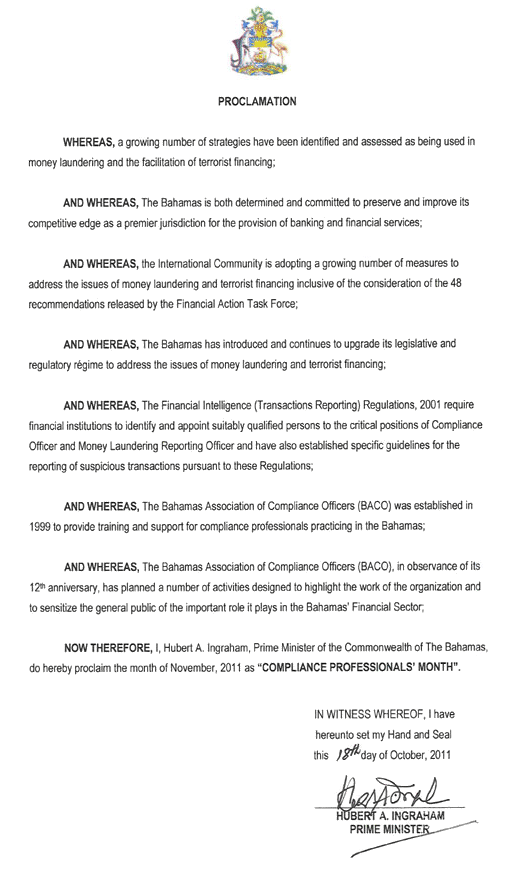 scotterill@dupuch.com