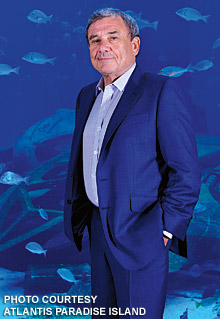 The sale of Atlantis Paradise Island and associated Bahamian properties will "relieve Kerzner of a substantial amount of debt" and better position it for long-term growth, according to company owner and president Sir Sol Kerzner.
Kerzner International announced today that it would transfer ownership of the mega-resort to one of its corporate lenders, Canadian investment group Brookfield Asset Management. Under the multi-million dollar deal the company will also give up ownership of the One and Only Ocean Club on Paradise Island as part of the debt restructuring plan, but it will continue to manage and operate both resorts.
Based in Toronto, Brookfield owns and operates over $69 billion worth of property assets around the world. Following today's deal, the company will convert its $175-million loan to Kerzner into equity.

"Kerzner has for some time been actively engaged in discussions with its lenders to restructure the company's debt in order to position the company for long-term growth as a global management company of first class destination and luxury resorts around the world," Sir Sol said in a statement released this afternoon. "Today we have reached an agreement in principle that goes a long way towards accomplishing this goal.
"Brookfield is a highly sophisticated investor in real estate. They understand our business and the importance of exceeding the expectations of our guests."
Kerzner added that long-term priorities for the resort now included maintaining investment in local and international marketing to support the Bahamian tourism sector, sustaining brand visibility and keeping future capital expenditure consistent with previous levels.
He also reassured staff that day-to-day operations at the resort would remain unchanged with employment levels staying stable and senior staff, such as Kerzner International's managing director George Markantonis, continuing in their roles.
"Kerzner, as the management company, will continue managing its current properties and can get back to focusing on what it does best: managing world-class destination and luxury resorts," the South African businessman said in the statement. "All operations will continue uninterrupted."
cboal@dupuch.com