The tenth meeting of the Conference of Caribbean Chief Justices and Heads of Judiciary, along with the second biennial conference of the Caribbean Association of Judicial Officers (CAJO), officially opened yesterday in Nassau.
Thirteen judiciaries and 80 delegates are participating in the three-day events. The theme for the Heads of Judiciary Conference is Emerging Technologies-Challenges and Opportunities and the CAJO conference is being held under the theme Bringing the Law Closer to the People.

Among government officials in attendance were Attorney General and Minister of Legal Affairs John Delaney, Permanent Secretary Archie Nairn and Director of Public Prosecution Vinette Graham-Allen. Members of the National Youth Choir directed by Patricia Bazzard performed for the event.
In his welcome remarks Chief Justice Sir Michael Barnett said The Bahamas is faced with challenges inherent in an archipelago that spans hundreds of miles.
"Although New Providence has the largest population base and is the hub of economic activity, the administration of justice must also serve the needs of the small populations of the remoter islands," he said.
Also participating in the opening ceremony were Sir Dennis Byron, president of the Caribbean Court of Justice, Justice Adrian Saunders, judge of the Caribbean Court of Justice, Michael Kirby, retired judge from Australia and Justice Christopher Blackman.
The Conference of the Caribbean Chief Justices and Heads of Judiciary was established as a forum to allow regional Heads of Judiciary to meet and discuss issues of mutual interest. The first meeting was held in Trinidad in 1998.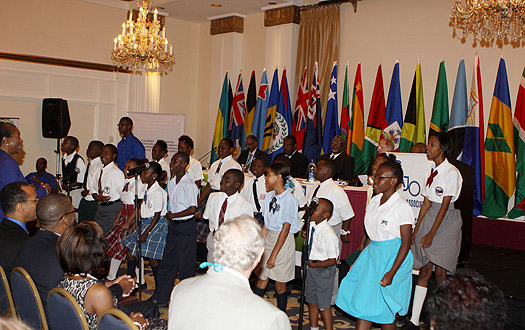 National Youth Choir performs during the official opening ceremonies of the Caribbean Association of Judicial Officers and the Conference of Caribbean Chief Justices and Heads of Judiciary. (BIS Photo/Patrick Hanna)