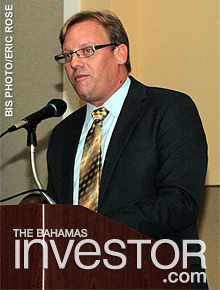 Pictured: Minister of Financial Services Ryan Pinder (left) speaks September 26, 2013, at the Higgs and Johnson Annual Client Seminar, held at the Sheraton Nassau Beach Resort. (BIS Photo/Eric Rose)
Minister of Financial Services Ryan Pinder said last week that the financial services industry, and specifically the developments in what is regarded as international best practices in international financial services, has caused for increased compliance requirements on institutions and clients.
"The lawyers here today have had to advise their institutional clients and industry clients on the evolutions that are required," Minister Pinder said at the Higgs and Johnson Annual Client Seminar, held at the Sheraton Nassau Beach Resort September 26, under the theme: Riding the Waves of Change: Compliance, Confidentiality and More.

Higgs and Johnson Corporate Services Ltd, First Bahamas Title Insurance Agency and Higgs and Johnson Fiduciary Services Ltd sponsored the event.
"Compliance has increased institutionally, and throughout different industries. This is change that has resulted in increased costs, and the continued investment needed in human capital development."
Minister Pinder noted that compliance is now extending beyond money laundering matters that has had the focus of the last decade and now into international tax compliance matters.
The Foreign Account Tax Compliance Act (FATCA), he said, is the first step where we see the requirements of additional compliance with respect to tax matters.
"The United States, because of its dominance in the financial industry, is imposing on the private foreign financial institutions, the obligation of tax compliance and reporting. Many clients in this room have had to develop competence and capacity in tax compliance to be able to navigate in the world of FATCA."
"The government of The Bahamas is assisting in minimizing the affect by what we think is the best way, through a Model 1 Intergovernmental Agreement (IGA)."
"This will cause the government, and specifically the Ministry of Finance, to be the competent authority in transmitting information to the Internal Revenue Service (IRS)," Minister Pinder noted.
The private sector, he continued, will still be responsible for the gathering of information and the adequate compliance and due diligence, but will not have that added responsibility of sending it directly to the IRS.
"As a result of the FATCA and aggressiveness of the United States in this regard, we see momentum internationally for multilateral agreements on automatic tax exchange, which will naturally result in increased compliance obligations," he said.
"I am also willing to predict that we have not seen the end of the evolution of international tax transparency and compliance," Minister Pinder said. "As such, there is a clear global expansion in compliance."
"Change can be intimidating, can cause for operations to change and adapt, and can result in increased costs, but it can also result in new and additional opportunities and allow for a jurisdiction and industry to be reflective of progressive evolution."
Pictured: Stakeholders and participants listen to Minister of Financial Services Ryan Pinder speak, on September 26, at the Higgs and Johnson Annual Client Seminar, held at the Sheraton Nassau Beach Resort, under the theme "Riding the Waves of Change: Compliance, Confidentiality and More". (BIS Photo/Eric Rose)