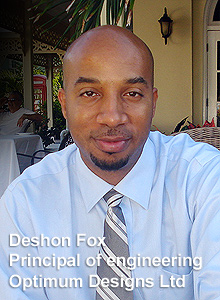 Principal of engineering firm Optimum Designs Ltd, 36-year-old Deshon Fox is one of a new breed of Bahamian entrepreneurs that is realizing potential in their homeland.
After graduating from Florida International University in 2000 with a Bachelor's degree in civil engineering, Deshon returned home to work in the office of George V Cox as a structural analyst.
A year later, he moved on to the office of Basil McIntosh for a brief stint working as a structural analyst before beginning post graduate engineering studies at the University of Minnesota. In 2004, Fox graduated from with a Master's degree in civil engineering.

Closely following this, he accepted a position at Kimley-Horn and Associates, a top multi-disciplinary engineering consulting firm with offices throughout the US. Fox worked for three years at its Vero Beach office in Florida.
At Kimley-Horn, Deshon honed his engineering skills. He worked alongside leading professionals within a variety of engineering disciplines including engineering feasibility and site analysis, traffic analysis, market analysis and economic feasibility, environmental site assessments, storm water management, roads and drainage design, potable water distribution and wastewater collection and treatment.
"Kimley-Horn was a rigorous environment. The performance expectations were high. Only the best survived," Fox says.
Though challenging, he credits his time at Kimley-Horn with driving home to him the importance of efficiency in the engineering profession.
"It is not good enough to get the job done," he says. "Most competent engineers can produce technical drawings within their field of expertise. What sets the outstanding engineer apart from the good engineer is the ability to connect with clients, to truly understand their ambitions, and to find the most cost effective and efficient way to make it happen for them."
In 2007, Fox returned home to The Bahamas, accepting a senior engineer position at Integrated Building Services (IBS).
In 2010, at the height of the economic crises, Fox decided to move on from IBS to form Optimum Designs Ltd, a multi-disciplinary engineering consultancy firm.
"It was a big risk" he says, "but one that I knew would pay off in the end."
Despite the economic slow down, Fox was encouraged by the start of major developments and infrastructural works such as Baha Mar and the Airport Gateway Project.
He knew that many developers, both local and foreign, were in the hunt for dependable, professional engineering service. He was determined to make Optimum Designs the number one choice of discriminating clients.
Within a year of forming the company, Fox was engaged by leading corporations such as KPMG Advisory Services Ltd and became an instrumental player on major projects such as the Baha Mar mega-resort development and the Princess Margaret Hospital expansion.
Deshon's message to aspiring entrepreneurs who may have cold feet because of the tough economic times is "keep planning and moving towards your goal…timing is important, but at some point you just have to jump."