More than 75 per cent of the $53-million dollar Critical Care Block construction project at the Princess Margaret Hospital in Nassau has been completed and is expected to have more than $20 million in new medical equipment installed over the next four months.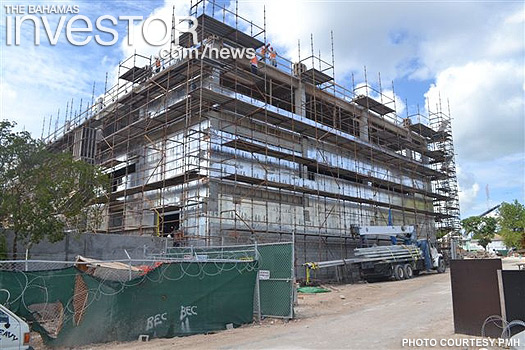 Critical Care Block under construction at PMH. (Photos courtesy PMH)
The multi-million dollar project, which is being funded by RBC Royal Bank, is due to be complete by July 2013.

"The complexity of the project is quite something–coordinating the technology and the inter-disciplinary teams, while simultaneously upgrading the existing ambulatory wing and keeping everything open and running at the same time is quite a balancing act," said Bruce Sim, head of capital markets and wealth management at RBC during a recent tour of the site.
"The scale of the project is impressive as well and truly only appreciated by an onsite visit," he added.
Sim was accompanied on the tour by senior RBC executives, including Brian Knowles, vice president of corporate banking.
The tour, coordinated by the Public Hospitals Authority (PHA), was led by Michael Diggiss, lead consultant at Michael Diggiss & Associates and John Michael Clarke, the project's quantity surveyor.
Also on hand were PHA executives including Frank Smith, PHA chairman, and Herbert Brown, managing director of the PHA, as well as Cavalier Construction Ltd executives Dirk Wilson and Doug Thompson and members of the collaborative design and construction teams.
The construction marks the single largest investment in the 60-year history of the Princess Margaret Hospital, something the PHA chairman said comes with exceptional management of resources.
"This project clearly represents the rewards of good management and the ability of Bahamian enterprise. We are engaged with all Bahamian companies and we are getting it done, on time and on budget," he said.
Adding that since the block broke ground in November 2011 it has tripled in size, PHA managing director Brown said: "Discipline and paying attention to detail has been the hallmark of this project thus far. We are very proud of the fact that it is also being done in tandem with 100 per cent Bahamian-owned businesses. This project speaks very clearly to what Bahamians can do."
Once completed the 75,000 sq ft building with house six state-of-the-art surgical suites, 18 recovery beds, 20 Intensive Care Unit (ICU) rooms, 48 Neonatal Intensive Care Unit (NICU) beds, new laboratory facilities, new MSSD and CSSD, as well as a new chapel, healing garden and upgraded supporting spaces for the building.
Lead consultant for the project Diggiss spoke about the thinking behind the tour: "Our goal was to ensure that the investors got a detailed account of our progress and to ensure that they were pleased with the product thus far. This is a very reputable, very positive direction for not only RBC, but also the country."
Expressing Royal Bank's gratification at partnering in the project, Sim added: "Banking is not a money business; it's a people business and when you see capital get to the right people, like it has here, it is truly exciting. We look forward to coming back to see the finished product."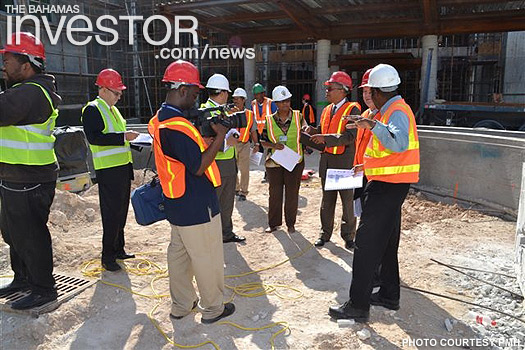 RBC executives tour Critical Care Block construction project at PMH. (Photos courtesy PMH)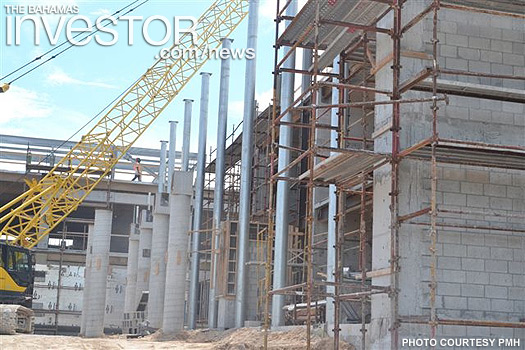 Critical Care Block under construction at PMH. (Photos courtesy PMH)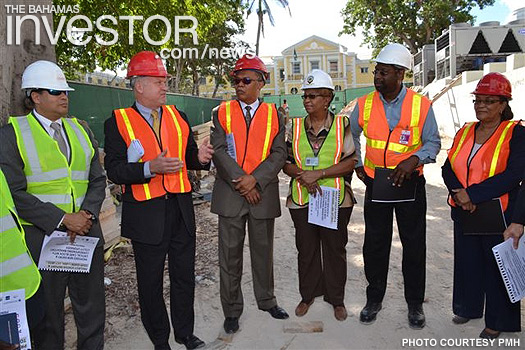 Pictured: (left to right) Frank Smith, chairman PHA; Bruce Sim, RBC head of capital markets & wealth management; Herbert Brown, managing director PHA; Dorothy Hepburn, acting hospital administrator PMH; Michael Diggiss lead consultant, Michael Diggiss & Associates; Hannah Gray, deputy managing director PHA (Photos courtesy PMH)