Marsh Harbour, Abaco – Leaders and strategists in financial services, government officials, key regulators and other industry stakeholders gathered in Abaco today to engage in mostly closed-door sessions to discuss issues concerning the sector in The Bahamas.
The annual two-day strategic planning and idea sharing conference helps to chart the way forward for the financial services sector, the country's second largest industry.
Now in its ninth year, the International Business and Finance Summit is the Bahamas Financial Services Board's (BFSB's) marquee event attracting global financial services leaders as presenters.
Among the topics discussed were opportunities and challenges facing the industry.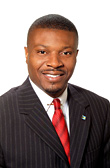 According to Minister of State in the Ministry of Finance Zhivargo Laing the industry's buzzword over the next few years must be "efficiency."
"We have to have greater output," he said. "The world we are in is extraordinarily sophisticated and demanding and will not settle for mediocrity."

The end goal, according to Bruce Weatherill, chief executive officer of his eponymous consulting firm, should be to attain "trusted advisors" status.
Weatherill, an FCA with over 30 years of global financial services industry experience, says that status comes with increased referrals and increased client retention.
"Trusted advisors have a 26 per cent greater share of wallet than untrusted advisors and manage a majority of their client's assets."
tblair@dupuch.com