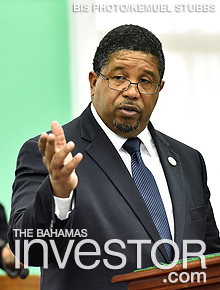 Pictured: Minister Turnquest presents the 2018/19 Mid-Year Budget Statement in the House of Assembly, February 27, 2019. (BIS Photo/Kemuel Stubbs)
Acting Prime Minister and Minister of Finance Peter Turnquest delivered the Mid-Year Budget Statement in the House of Assembly yesterday.
Minister Turnquest said that the government's 2018/19 Budget was a watershed budget, as it was guided by the stringent fiscal requirements of the then-pending Fiscal Responsibility Act.
The subsequent Fiscal Strategy Report of November then set the stage for the medium-term framework that will underpin the development of the 2019/20 Budget.
He noted that this will be the first time in 12 years that The Bahamas will have seen projected growth of over 2.0 per cent for consecutive years.

He said that the stronger US economy and the completion of a number of foreign direct investment projects last year, including the opening of the final phase of Baha Mar resort and the official opening of the entertainment complex at The Pointe, had also bolstered the economy.
Read/download the full Mid-Year Budget Statement here: