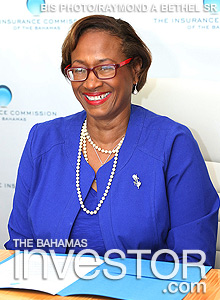 Pictured: Michele Fields, superintendent of insurance, speaks at a press conference, June 25, 2019 at the Poinciana House offices. (BIS Photos/Raymond A. Bethel, Sr.)
The Insurance Commission of The Bahamas(ICB) is celebrating its 10th year anniversary as an independent regulator.
The commission hosted a press conference at its headquarters on East Bay Street, June 25, 2019 to announce plans to recognize this milestone.
On July 2, 2009 a new Insurance Act established the ICB as an independent corporate body, succeeding the Office of the Registrar of Insurance Companies.
The commission's mandate is to protect the interest of the insuring public through supervision of insurance institutions operating in and from within The Bahamas.

Several events have been planned to mark the anniversary. They include a reception for stakeholders, a national high school essay competition, speaker's forum for tertiary level students, an environmental campaign entitled "Blue is the new Green," and talk show appearances.
In a press release the commission says: "The commission is proud of the accomplishments made over the past decade. Over the past 10 years a robust framework has been developed focused on ensuring that all licensees and registrants of the commission adhere to sound and prudent business practices."
"We have invested in training and development of our staff and we have a cadre of 30 qualified professionals. We hope that as a result of our ongoing communication and engagement with the general public, particularly our consumer awareness radio and television advertisements, the public will gain greater understanding of the insurance market and the role of the commission."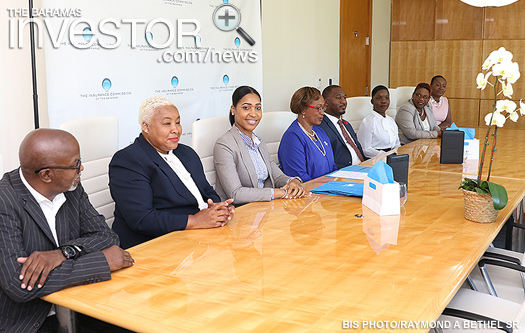 Pictured: Michele Fields, superintendent of insurance (seated fourth left), speaks at a press conference, June 25, 2019 at the Poinciana House offices to announce plans for the 10th Anniversary celebrations of the Insurance Commission of The Bahamas. (BIS Photos/Raymond A. Bethel, Sr.)