Six months after it launched the first global trading platform for local residents, Cornèr Bank (Overseas) Ltd unveiled a slate of expanded investment services this week, including its trading app My Cornèr for use in The Bahamas.
Announcement of the expansion that included fund and individual asset management, advisory services and an app that allows 24/7 trading for Cornèrtrader account holders came from group chairman Vittorio Cornaro during the opening of Cornèr's new art exhibition at its Old Fort Town Centre office.

"More than 20 years ago, we came to The Bahamas," said Cornaro. "Now we have two locations, our office on East Bay Street and here in Old Fort Bay. Five years ago, we introduced our trading platform, Cornèrtrader, and we knew we were taking a chance, being innovative and courageous. The response to Cornèrtrader went above and beyond all our expectations."
In September, Cornèr Bank took the success of that trading platform to a new market – The Bahamas, launching it at an event at Baha Mar.
"I am especially proud that Cornèr Bank was the first international financial institution to provide a trading platform for Bahamians and others living in The Bahamas," said Cornaro. "Bahamians and others who use our Cornèrtrader platform can now trade on the New York and London stock exchanges in real time independently anywhere, any time."
Encouraged by the response to that Cornèrtrader product, Cornèr Bank said it moved "expeditiously" to fill the demand for increased investment services.
The expansion includes fund management, individual asset management and advisory services for those who have the desire to invest in international markets but lack the confidence or ability to self-trade.
"At any given time, we have more than 6,000 pieces of current information available and while we know that we are comprehensive, we also understand that the sheer volume of information available can be daunting," said Christine Russell, Cornèr Bank CEO.
"Advisory services simplify the process."
Such services are available for individual account holders and institutional investors.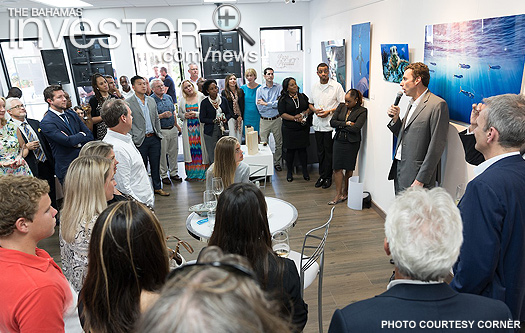 Pictured: Cornèr Bank's Chairman Vittorio Cornaro unveils a new slate of services available for local account holders. (Photos courtesy Cornèr)