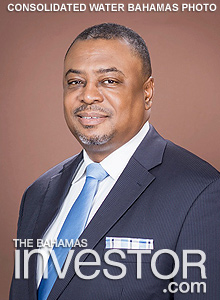 Pictured: Ethan Adderley. (Courtesy Consolidated Water Bahamas Ltd)
Consolidated Water Bahamas Ltd, a subsidiary of Consolidated Water Co. Ltd. (Nasdaq: CWCO), and a developer and operator of seawater desalination plants, has announced changes to its Board of Directors. Local businessman Ethan Adderley has been appointed to the board, effective as of year-end 2018.
The company also announced that long-serving board member, Sir William Allen, has stepped down.
Consolidated Water Bahamas Ltd board chairman, Wilmer Pergande said:
"The Board warmly welcomes local Bahamian businessman, Ethan Adderley. We look forward to his contributions including his proven fresh, often innovative solution-based approach which will greatly assist us in our goal to expand our business beyond New Providence and the island of Bimini."