Cosmetics is a growing and profitable market for Caribbean producers, according to regional trade group Caribbean Export which praised local firm bahamaSpa for bringing its line of natural soaps and lotions to European consumers.
The natural cosmetics industry is growing at an annual rate of 8-10 per cent in the European Union, according to Caribbean Export, and 50 per cent of British consumers prefer to buy cosmetics made from natural ingredients.

"Apart from the health benefits of natural ingredients many Caribbean companies sell in the EU, they also work hard to make products as sustainable as possible, from production to packaging, with the aim of not generating waste or harming the environment", said Damie Sinanan, Caribbean Export competitiveness and export promotion manager.
"Consumers are demanding that companies use less plastic, more recyclable materials and eco-friendly products and packaging. In fact, some of the region's best-selling products in Europe are those that are fully biodegradable, like the soaps from bahamaSpa, and those made without cruelty to animals and that support eco-trade of local farmers in the Caribbean."
CARICOM exported EUR32 million worth of essential oils to Europe last year, according to Sinanan, who says castor oil and coconut oil in particular show a lot of potential due to their natural health properties and their use in cosmetic and beauty products.
Caribbean Export is urging Caribbean companies such as bahamaSpa to attend the 4th CARIFORUM-EU Business Forum held in Frankfurt in September to make connections with potential buyers and increase their brand visibility.
The two-day event is hosted by Caribbean Export alongside the European Union and the German Development Agency. This year, 18 Caribbean firms from the cosmetics and nutraceutical industries are set to participate.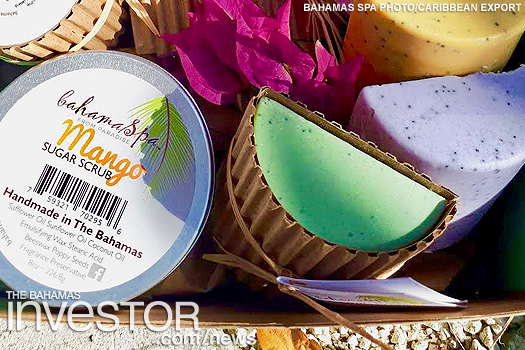 Pictured: bahamaSpa's products are made with natural herbs, salts and minerals, and packaged in eco-friendly and recyclable materials. (bahamaSpa Photo/Caribbean Export)