Stopover visitor arrivals to The Bahamas were up 15.2 per cent for the first six months of this year, compared to the same period last year, according to government figures released last week.
The increase translates into an additional 110,000 visitors to the country during that timeframe.
Tourism officials estimate that an average stopover visitor to The Bahamas spends "north of $1,500" which would suggest that revenue during that timeframe, as a result of those stopover visits, was an estimated $165 million.

Minister of Tourism and Aviation Dionisio D'Aguilar made the announcement during a press briefing, September 7, at the British Colonial Hilton.
Minister D'Aguilar said the double-digit increase in stopover visitor arrivals was driven by positive visitor growth from the US, which is up 8.4 per cent; Canada, up 30-plus per cent, in addition to arrivals from the European nations.
The news of positive performance the first six months of the year have tourism officials "ecstatic" about the prospects for the remainder of 2018.
"We are very, very bullish on 2018 to see a strong finish to the year," Minister D'Aguilar added.
The news comes as The Bahamas gets set to host the Caribbean Tourism Organization's (CTO) State of the Tourism Industry Conference (SOTIC) October 1-5 (2018) at Atlantis Paradise Island. Tourism Ministers, industry officials and industry stakeholders from throughout the region will travel to New Providence for the SOTIC.
Minister D'Aguilar said the SOTIC affords regional hospitality and tourism professionals the opportunity to not only assess the region's tourism "situation," but to also share new trends and best practices that can help devise new ways to improve the industry, while making it more sustainable and inclusive.
D'Aguilar said the conference also provides industry officials with the opportunity to "explore concepts and models to expand beyond traditional tourism boundaries into entirely new frontiers."
"SOTIC is a worthwhile, important and invaluable investment for The Bahamas. The media coverage will be priceless (an estimated 30 regional and international media will be in town to provide coverage of the event), the lessons we learn will be priceless; the business it brings, will be welcomed," Minister D'Aguilar added.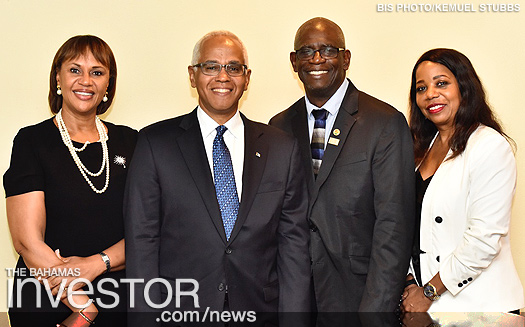 Pictured: Tourism officials attend Friday's press conference, (from left) Director general of tourism Joy Jibrilu; Minister of Tourism & Aviation Dionisio D'Aguilar; Caribbean Tourism Organization communications specialist Johnson Johnrose; and Ministry of Tourism general manager/global communications Anita Johnson Patty. (BIS Photo/Kemuel Stubbs)