Building on its 50-year history in The Bahamas, Royal Caribbean International (RCI) has reaffirmed its commitment to the country, investing $200 million in its Berry Island destination, CocoCay, and donating $28,000 to the LJM Maritime Academy in Nassau.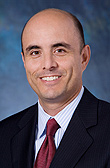 "The Bahamas is very important to us," said RCI senior vice president of marine operations Gregory Purdy (pictured) during his keynote address at the Bahamas Maritime Conference this morning. "It is the country we visit most. We first came in 1970 [and have] a very strong relationship."
Purdy said the cruise line is on track to bring 1.75m guests to The Bahamas by 2021 and contributes $300 million to the country's economy each year.
He was optimistic about the continued growth of the cruise sector, telling attendees: "As an industry, we have barely tapped the number of people vacationing globally. The potential within our industry is tremendous."
To further develop business in The Bahamas, RCI is transforming its private island destination, CocoCay. The multi-million dollar makeover involves a waterpark, restaurants, zip line and over-water cabanas. The project will open in phases with most attractions available by summer 2019.
The Bahamas is not just an attractive itinerary for the cruise giant, according to Purdy. It has also facilitated the company in growing and refining its fleet of world-class vessels. "We would not be able to build the ships we build without the support of The Bahamas," he said. "The Bahamas has not only been a great partner for us in our day to day operations, but also for us to be able to build the ships we have.
"Grand Bahama Shipyard is our preferred shipyard," he added. "We have done major renovations there. They have been very creative in helping us with some tricky situations."
RCI aims to introduce its newest ship, The Symphony of the Seas, to The Bahamas soon with the vessel due to arrive in Miami by the end of the year. It is expected to visit CocoCay in May 2019.
cmorris@dupuch.com