Prime Minister Dr Hubert Minnis and a Bahamian delegation arrived at London Gatwick Airport, yesterday, to attend the Commonwealth Heads of Government Meeting (CHOGM) being held in London April 16-20, 2018.
The 2018 CHOGM will have the theme: Towards a common future.

The focus will be on ensuring that the Commonwealth is "responsive to global challenges and delivers a more prosperous, secure, sustainable and fair future for all its citizens, particularly its young people."
The meeting will begin with the Commonwealth Business Forum, People's Forum, Women's Forum, and Youth Forum. Those are some of the sessions Bahamian delegates will attend and participate in.
Darren Henfield, Minister of Foreign Affairs will attend the Pre-CHOGM Meeting of Commonwealth Foreign Ministers. The Prime Minister, Minister Henfield and High Commissioner Ellison Greenslade will attend the Formal Opening of the Commonwealth Heads of Government Meeting at Buckingham Palace. The Prime Minister will attend the Executive Sessions at Lancaster House.
The delegation will visit Bahamas House to meet with staff of The Bahamas High Commission and The Bahamas Tourist Office.
The delegation will return home April 22.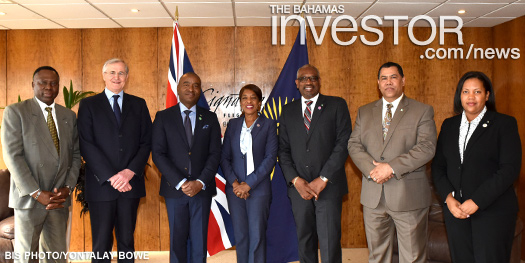 Pictured: (from left) Joshua Sears, Senior Policy Adviser, Office of the Prime Minister; David Pearey Special Representative of the Foreign Secretary, Foreign and Commonwealth Office; Minister of Foreign Affairs Darren Henfield; Patricia Minnis, spouse of the Prime Minister; Prime Minister Hubert Minnis; Ellison Greenslade, Bahamas High Commissioner to the UK; and Viana Gardiner, Chief Operating Officer, Office of the Prime Minister/Deliverables Unit. (BIS Photo/Yontalay Bowe)