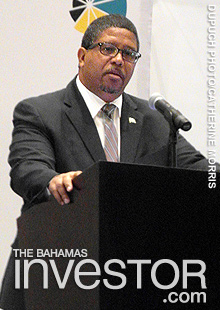 Pictured: Deputy Prime Minister and Minister of Finance Peter Turnquest speaking at the BCCEC annual conclave. (Dupuch photo/Catherine Morris)
Following push back from the private sector, Deputy Prime Minister and Minister of Finance Peter Turnquest defended the government's proposed 60 per cent value added tax hike this morning as he addressed the Bahamas Chamber of Commerce & Employers Confederation (BCCEC)'s annual conclave.
"I appreciate these measures are unpopular," he said of the increase from 7.5 per cent VAT to 12 per cent, which is due to take effect on July 1.
"We are in this together as we only have one Bahamas and we must adapt to be successful together. While the business community has been resistant to these changes, we are calling on you to embrace the notion of shared sacrifice."

Referencing the government's $7.2bn debt and history of downgrades, the Minister said: "Corrective actions might be hard, but they are necessary. We need to get our fiscal house in order. It requires structural adjustments and a cultural shift. It takes patience, discipline and sacrifice. One of the benefits of VAT is that it sensitizes people to the cost of government. It holds us all accountable."
Turnquest said the government has not committed to any further changes to the tax structure, such as corporate or personal income taxes, but is reviewing the situation in order to help The Bahamas shed its tax haven label and strengthen the jurisdiction's global reputation.
"There is no policy commitment to any alternative tax [but] we have to look at our entire tax structure to be fair to ourselves and be compliant as a full partner in the international community. It is the responsible thing to do," he told attendees at the conclave, which took place at the Baha Mar Convention Centre today.
cmorris@dupuch.com