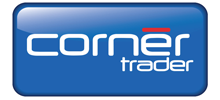 After more than a year of extensive preparation, Cornèr Bank (Overseas) Ltd unveiled September 13 its new Cornèrtrader platform allowing Bahamians to enjoy direct access to buying and selling shares on the global financial markets, including the New York Stock Exchange and NASDAQ.
According to Cornèr Bank (Overseas) CEO Christine Russell, gradual and measured liberalization of exchange control by The Central Bank of The Bahamas has paved the way for the right of Bahamians to invest in US markets by reducing cost of exchange.

That rate, once set at 25 per cent, then reduced to 5 per cent in February, made the trading platform a realistic prospect for Bahamians.
The opportunity, she said, answers a pent-up desire for alternatives to traditional avenues for financial investment – limited local shares, government bonds, real estate and family businesses. She credited The Bahamas International Securities Exchange (BISX) with introducing Bahamians to the world of participatory ownership, but said the desire to expand beyond the limits of Bahamian companies has long been a part of the Bahamian psyche.
"For as long as those of us in this room can remember, we have been consumers of products abroad, but limited in participating in the ownership of the companies that manufacture those products or provide the services we consume," she noted.
"Bahamians could buy a Blackberry, but not readily invest in Blackberry. Later we could buy a Samsung phone, but not easily invest in Samsung stock. Even more glaring as an example, we can purchase items easily through a 'click of a mouse' on Amazon, but not readily invest in Amazon; all three tradeable securities on the international markets."
The Bahamian appetite to participate in a broader economy, said Russell, can now be satisfied through Cornèrtrader, a platform that opens up a new world of opportunities in international trading.
Cornèr Bank will facilitate the Central Bank's approval process, ensuring a seamless ease of business for all clients. Further, the bank will provide educational and platform support through regular seminars designed to expand clients' knowledge base and ultimately enhance their trading experience.
Once the account is opened, the account holder has access to up to the minute company information on the more than 150 different product instruments offered as the programme gets underway.
Cornèrtrader's highly professional researchers and analysts in Switzerland where the bank is headquartered and elsewhere provide continuously updated market analysis.
The introduction of the trading platform allowing Bahamians direct individual access to US and global markets lands in the midst of two other Cornèr Bank milestones – the bank marks 60 years since its founding and 20 plus years since it opened its Bahamas offices.
On hand for the launch was Luca Salzborn, Cornèr Bank Group's chief operating officer and Cornèr Bahamas executive director based in Lugano, Switzerland.
"The single critical basic foundation an investor needs is confidence in your platform," said Salzborn. "Cornèr Bank (Overseas), a private bank licensed in The Bahamas, is a member of Cornèr Bank Group, the number 1 bank in Switzerland in terms of capital soundness, as confirmed by The Banker's Top 1000 World Banks ranking for the third consecutive year. Cornèr Bank has a 60-year history in Switzerland and over 20 years in The Bahamas. Through, the Cornèrtrader platform, investors enjoy seamless access to the world's markets and have access to information and knowledge of informed trading strategies. Local support, platform education, a unique investor experience, precision execution and transparent conditions on pricing, including no management fees (except custody)…makes the platform extremely attractive and highly competitive."
For the Bahamian CEO, the convenience of individual direct access coupled with information at a trader's fingertips provides clients with the tools they need, but she notes that every investment in a market involves risk.
"Financial markets involve risk and reward," said Russell. "Knowledge is key and that is one of the greatest advantages of Cornèrtrader. As an account holder, you enjoy access to the constant updating of information about companies, their management, products, published future plans, performance track records over time. You have all of that information at your fingertips 24 hours a day, seven days a week. You can invest from the comfort of your living room, by the pool, or while out at the beach. And there will always be information you can access to help guide you."
Among those present for the launch were leaders in financial services, real estate, retail and professional services.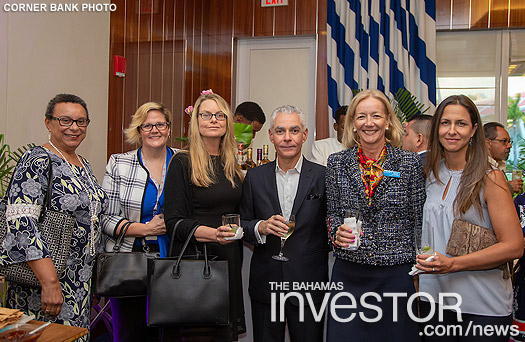 Pictured: Guests attend the official launch of the Cornèrtrader platform September 13 at the Cornèr Bank (Overseas) offices in Nassau. (Cornèr Bank Photo)