Source:
Date:
Updated:

Air Unlimited
Wednesday, July 11, 2018
Thursday, July 12, 2018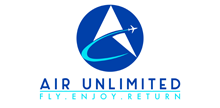 ORLANDO, Fla., July 10, 2018 (GLOBE NEWSWIRE) — Air Unlimited, a private flight company offering charter travel and daily airline service to the Bahamas, announces its largest expansion to date with the addition of a new WiFi-equipped business jet, extended hangar and easy-to-use check-in desk located on the island for quick and elite service.
The company doubled its office and hangar space to nearly 20,000 square feet inside the Orlando Sanford International Airport. It also increased its workforce by nearly 20-percent.

This expansion comes after the company doubled the number of passengers flying with them from 2016 to 2017. The company projects similar growth this year and beyond, and is set to celebrate its fifth anniversary in business this fall. While flying with Air Unlimited, guests experience outstanding service, friendly staff, a speedy check-in process, free baggage (up to 40 lbs.) and free parking on both island travel service and charter flights, making it an enjoyable experience for all travelers.
Paving the way for new travel options and world-class experiences, this expansion offers more charter flight services to guests with the addition of a Cessna Citation CJ3, a top-notch business jet, to its fleet. The CJ3 features a spacious cabin that can seat up to nine passengers. The addition of the CJ3 to the Air Unlimited fleet brings a significant first for the company: offering WiFi at an optional charge, allowing passengers to stay connected while in the air. Air Unlimited's private charters offer quick, convenient flights with pick-up and drop-off anywhere in the U.S.
"The CJ3's WiFi capability is a big step forward in keeping up with the latest trends in air travel and staying competitive with commercial and private flight companies," said Mark Neubauer, co-founder and principal of Air Unlimited. "Ultimately, our passengers choose us because they love the enjoyable, hassle-free experience our charter and airline flights offer."
In addition to an expanded fleet, the company unveils a second hangar at its headquarters at the Orlando Sanford International Airport. The hangar will serve as a new hub for maintenance work, away from the check-in and loading areas. Now, guests can enjoy a spacious and uninterrupted loading zone in Air Unlimited's exclusive service hangar, dedicated to providing an enjoyable flight experience for passengers.
Guests flying round-trip with Air Unlimited to Marsh Harbour will find a smoother check-in experience on their flight back to the U.S. with a new check-in desk at the Leonard M. Thompson International Airport. The added desk offers guests faster customs processing, a larger air-conditioned waiting area and a VIP lounge accessible with membership.
"We pride ourselves on treating our guests like family, and we owe our success to them," said Charles "Chick" Gregg, co-founder and principal of Air Unlimited. "This expansion will allow us to continue to go above and beyond to give guests a stress-free travel experience with the best quality service we can provide."
For more information about Air Unlimited or to book a trip, visit www.flyairunlimited.com. Follow Air Unlimited on Facebook, LinkedIn, Instagram and Twitter for news and flight details.