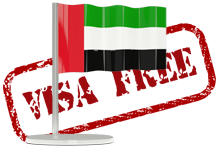 The Ministry of Foreign Affairs and Immigration of the Commonwealth of The Bahamas announces that the visa waiver agreement signed with the United Arab Emirates (UAE) 27 November 2016 came into effect on 27 December.
A similar announcement has been made in the UAE.
This means that with effect from 27 December, UAE citizens can now enter The Bahamas without a visa and stay up to 90 days as tourists and Bahamian citizens can travel to the UAE with the same privileges.